Hong Kong Book Fair 2020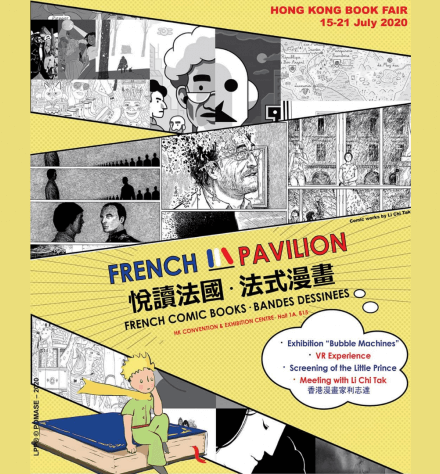 Come and see the French Pavilion at Hong Kong Book Fair! This year, we will present you a large choice of comics and talk about them, surrounded by the images of the Petit Prince.
In collaboration with the Hong Kong Trade Development Council, the French Consulate General and Alliance Française will once again present the French Pavilion to the city's annual Book Fair from 15 to 21 July 2020. This year the theme chosen is "Inspiration". Renowned French-based Hong Kong artist LI Chi Tak has been invited to the Pavilion to interact with the local public.
To resonate the theme and in the context of the celebration of European "Comic strips" in 2020 conceived by the French government, the Consulate and Alliance Française have chosen to dedicate the French Pavilion to French Comics. "La bande dessinée"
This will highlight classic and contemporary French comics as well as new forms of reading through a digital exhibition. We have selected many comics to represent the art of comic books as well as possible. Flip through world-renowned classics as Astérix, Tintin or the Smurfs and discover the very best of novelties for adults and kids!

Join us to meet some of your favorite comic authors from Hong Kong and have your books signed at the same time.