Delf Dalf
Achieve your goals

The DELF (Diploma of French Language Studies) and the DALF (Advanced Diploma of French Language Studies) are the first lifelong diplomas of French as a second language with international recognition. Today, there are 1200 exam centers in 175 countries that offer the DELF and the DALF - for a total of 400,000 candidates around the world each year. Since their inception in 1985 there have been more than 7,000,000 candidates.
Description & structure
DELF: Diplôme d'Études en Langue Française (Diploma of French Language Studies), A1 to B2 levels.
DALF: Diplôme Approfondi de Langue Française (Advanced Diploma of French Language Studies), C1 and C2 levels.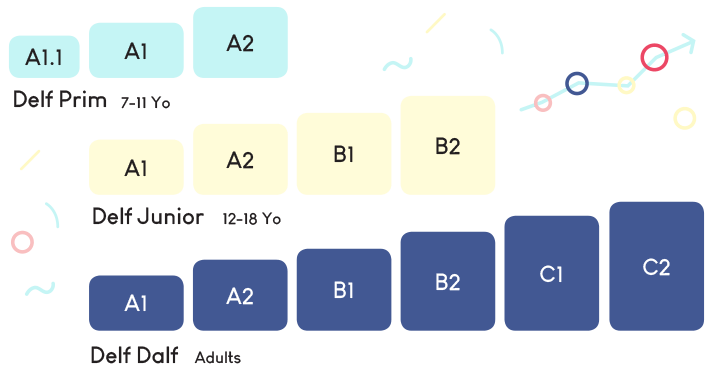 Pricing and preparation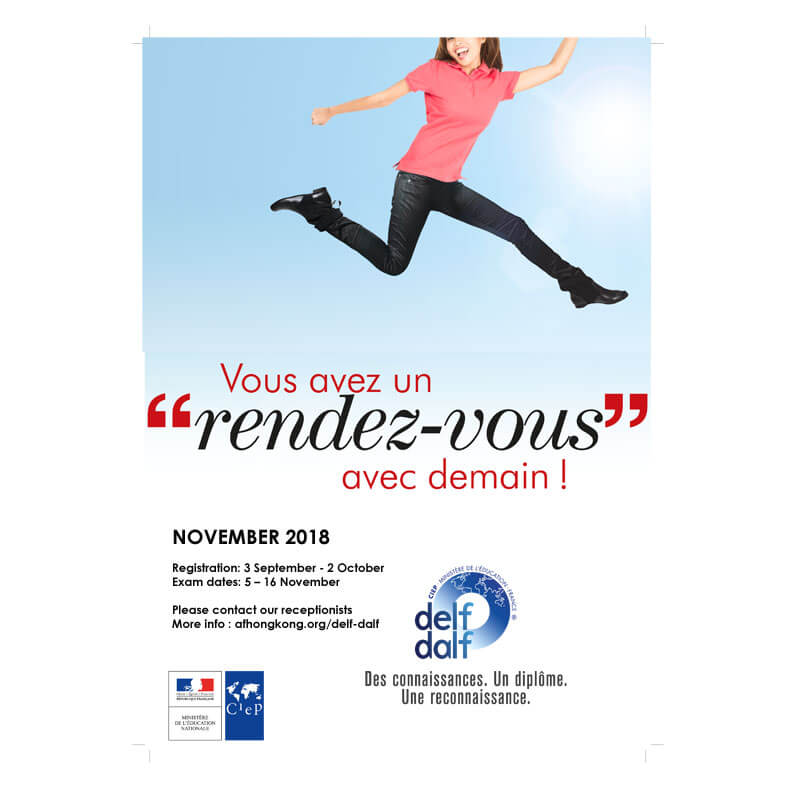 A1 - HKD 1,350
A2 - HKD 1,350
B1 - HKD 1,850
B2 - HKD 2,000
C1 - HKD 2,850
C2 - HKD 3,000
Mock EXAMS

The mock exam will be assessed by DELF-accredited teachers and personal feedbacks will be provided individually at the end of the day. Our mock exam is great opportunity for you to correct the little mistakes that can make a big difference on the D-day.
The feedbacks from our skilled and experienced teachers will help you put all the chances on your side.
We will only accept a limited number of candidates in order to offer quality feedbacks to the candidates.
Our mock sessions are open to everyone, whether you plan to take the real exam or simply want to assess your progress in the language.
Next session & registration dates

Examination Centre: unless clearly advised otherwise, all exams are organised at HK Scout Centre and Alliance Française, Jordan, during business hours.
Please note that candidates will not be able to choose their oral examination date and time.

SESSION 3

DATES & TIME


REGISTRATION
DATES

NOVEMBER
2019

A1

4 November (Mon) - 09:00 - 16:00
Written test: 9:15-10:35 am

1 September -
12 October 2019

A2

5 November (Tue) - 09:00 - 16:00
Written test: 9:15-10:55 am

B1

 11 November (Mon) - 09:00 - 16:00
Written test: 9:10-11:00 am

B2

6-8 November (Wed-Fri) - 09:00 - 16:00
Written test: 9:15-11:45 am on 7 Nov

C1

12-14 November (Tue-Thu) - 09:00 - 16:00
Written test: 9:15am - 1:30pm on 12 Nov


C2




14-15 November (Thu-Fri) - 09:00 - 16:00
Written test: 9:15am - 12:45pm on 14 Nov
---
How to register

Read through the information on this page.
To register: please submit the registration form and pay the examination fees at one of our centres (Jordan, Shatin, Wanchai), OR you can use our Online registration service.
Download the registration form.
For online registration, please click on the corresponding unit below.
When the online payment is successful, you will receive by email a receipt and a payment reference. Please send your completed examination registration form together with the payment receipt to exam@afhongkong.org
You will receive an email confirming your registration.
You will receive your exam schedule by post or email two weeks before the examinations.
If you have any questions, please contact Branda Chan on 2738 2714 or exam@afhongkong.org
Exam fees are neither refundable nor transferable. All registrations are final.  Please ensure that you will be available to attend the exam on the date(s) and within the time range.

EXAM LEVELS : DELF A1 - A2 - B1 - B2 DALF C1 - C2 (enable during registration period only).

Please note that the online payment is available for the examinations that are open for registration. Without a confirmation email from AFHK, your registration is not valid.
An exam notice will be sent to you by post or email 2 weeks prior to the exam day. If you don't receive it, please inform us by email at exam@afhongkong.org.



---
How to prepare
Sample papers are provided for each level on the CIEP website.
Workshop and Mock Exams. Learn More.
Private tuition: personalised training and flexible scheduling, private tuition is a great way to get ready before your exam. Visit our website for more details or contact us at privatetuition@afhongkong.org.
Resources:


---
Results

Note that DELF and DALF examiners and markers are all trained and authorized by the CIEP. They follow strict assessment guidelines and are regularly monitored.
Results will be sent to you by post or email about 7 weeks after sitting the exam. Diplomas will be issued to candidates with "passed" ("admis") results by the French Ministry of Education.  Usually, it takes about 3 months after the results are sent to candidates. We will inform you by email when we receive the diplomas so that you can come and pick them up.
Candidates from Mainland China - we may arrange the diploma to be sent by SF Express (paid by receiver).
Candidates from other countries - we may arrange the diploma to be sent by Speedpost, but you have to inform us and pay the relevant courier fees in advance.