Home
›
Products
›
Books-and-co-comics-workshop-teens
Comics Workshop : Teens
$250.00
HKD


Approx $31.83

USD
Description:
Online Zoom session
Thursday, January 28th, 4 pm - dual mode - online or face-to-face in the centre (with safety precautions)
250 HKD - 20% Discount for members
In English with French words / translation
---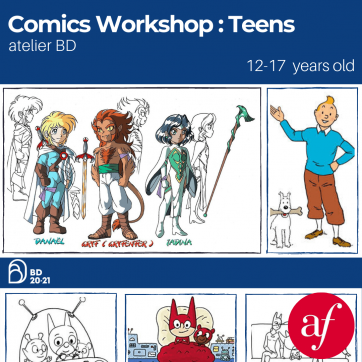 With positive feedbacks from our first series of Comics Workshops in 2020 (August & September), we will now bring to you a new edition.
Learn the basics of comic book storytelling: characters, frames, and staging, and draw your own comic-strip under the guidance of a professional comic book artist!
For those who have participated previously, don't worry - this time we will integrate new content: how to create memorable characters, how the form and shape of characters communicate certain ideas...
Our guest instructor will conduct the workshop in English with some words of French. This entire workshop will be held via Zoom, including all the live drawing demonstrations, with the help of three cameras (one topdown on the hands and drawings of the artist / two more to provide different angle shots of the artist himself).

Age group: 12-17 years old
Artist / Teacher : Alejandro Anzola-Jürgenson
Interested kids can head to the Kids Workshop.
Some highlights from our last workshops: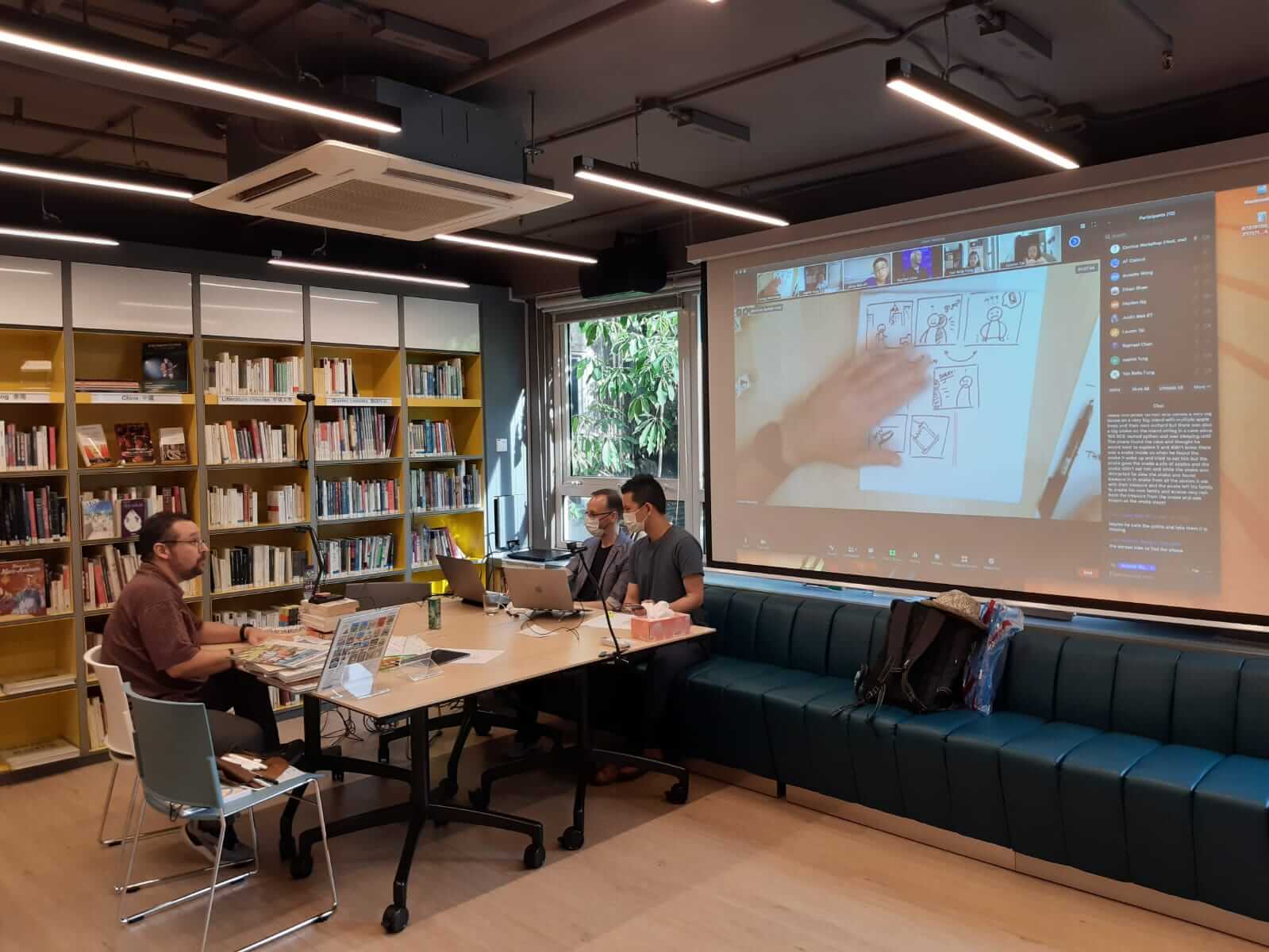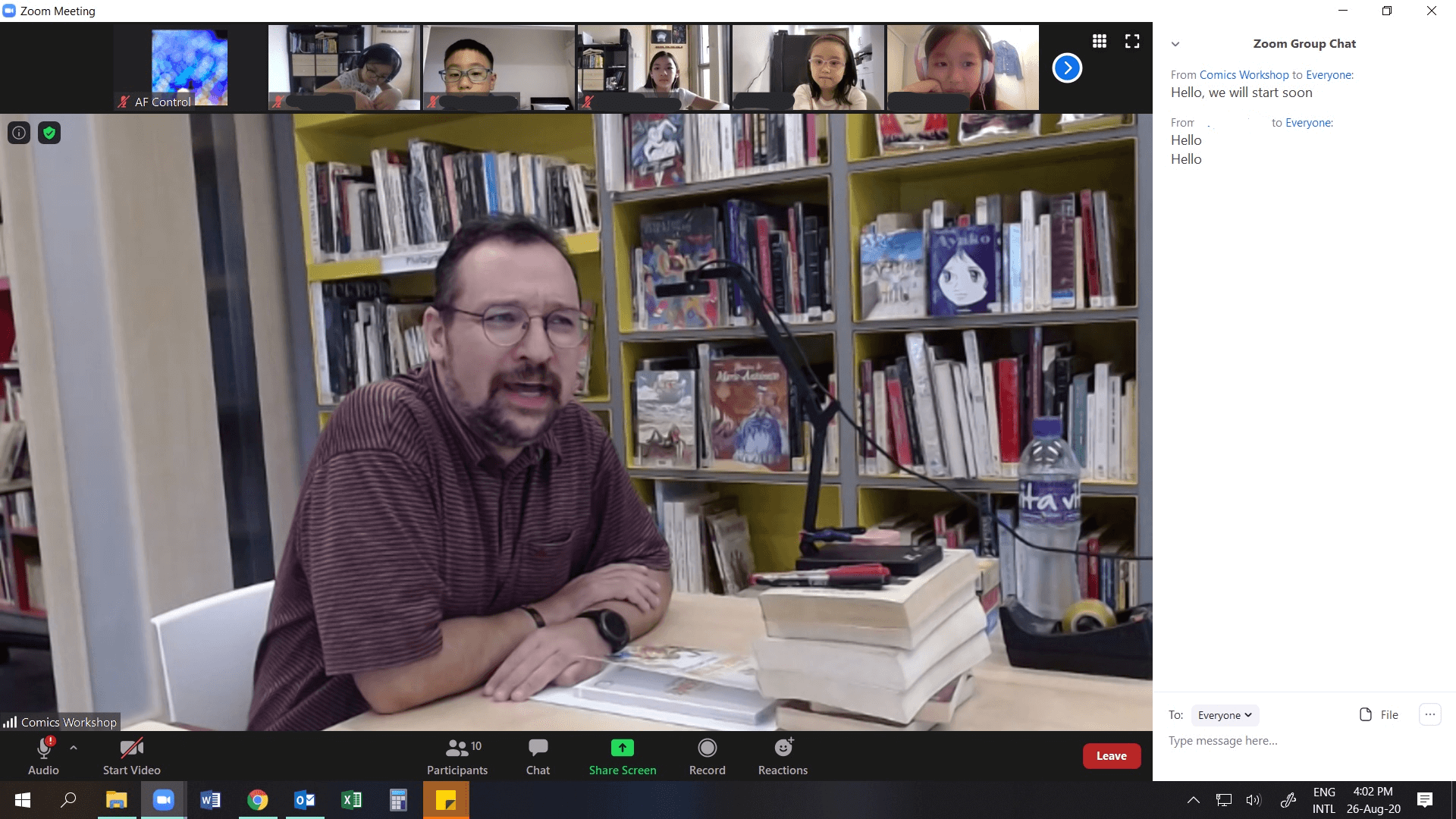 ---
List of materials required
Mandatory:

- Paper: You can use simple printer paper, but some better quality paper (at least A4 size), or a sketchbook would be better. Look for paper that is smooth.
- Pencils: It would be best to use 2H, HB, or 2B pencils, or mechanical pencils. If you use pencil, make sure to have a sharpener at hand
- Eraser: a good rubber eraser
- Markers: You will need some black markers with waterproof ink in various sizes. We recommend 0.3, 0.5, and 0.8. Micron and uniPIN can be found in any stationary shop.
- Clear Ruler, at least 30cm
Optional:

- A better option for sketching are light blue sketch pencils. This is helpful if you want to scan your drawings, and don't want to erase too much
- Kneadable eraser. These grey or blue erasers can be shaped into a fine point and other shapes, and are very good for erasing details.
- Colour pencils/markers/watercolours: There are many tools that you can use if you want to colour your comics.
- A shape template. We recommend a good sized template with circles, squares, and triangles. At the very least a circle template is very helpful.
- Brush pens with black ink. These are helpful for filling large areas with black.
- If you feel confident enough, you can use liquid ink with brushes or dip pens. Be careful, as this can be very messy!
- Photo references of objects, animals, or people you'd like to draw.