10 tips to prepare for a French exam (DELF, DALF, TCF)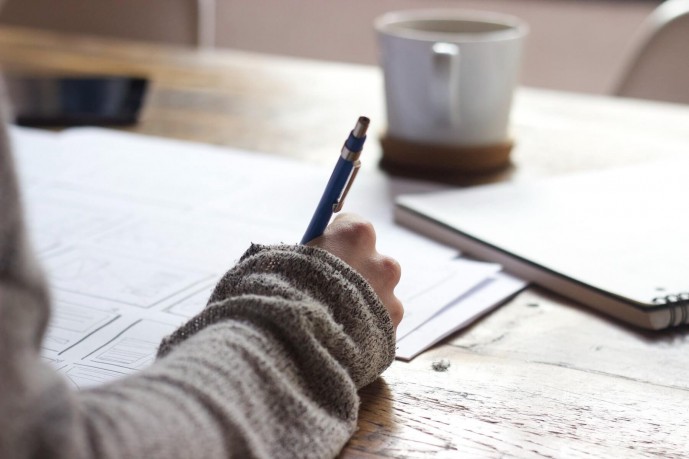 French language exam is coming, time to get ready! As the official French language exams center in Hong-Kong, Alliance Française de Hong Kong offers over several French exams harmonised within the Common European Framework of Reference for Languages (CEFR) and internationally recognised by foreign ministries responsible for education. . Whether is it the TCF Canada, the TCF, the DELF, the DALF or the DELF Junior, here are 10 ways to be well prepared for the D-day!
1/ Take a course

Taking a course is a classic way to prepare for your exam. Teachers know what are the prerequisites of your level and they will offer you content and materials to learn with. Alliance Française de Hong Kong offers several courses according to different levels of CEFR with a generalist approach, ranging from level A1 to C2.
The best way is to come and take a placement test so you will know what's yours and take the appropriate course. Furthermore, teachers will be able to answer your questions regarding the exam.


2/ Attend a workshop

French workshops can contribute to strengthening specific competences such as French Grammar, French Pronunciation or simply help you prepare for French exams. Some focus on specific language themes and topics, such as French Philosophy, French Arts and Civilisation or French Literature.
Alliance Française de Hong Kong offers workshops for all level and one has been specially developed for French exams preparation, including for DELF, DALF and TCF. Find out more about our workshops and order here.


3/ Use mock exams

Passing a mock exam with us is very beneficial to prepare for the actual one because you will be in the same situation without stakes. It's the perfect time to know where you stand regarding your planning and the exam expectations.
Moreover, you'll see your behavior during a stressful time, how you manage your time, and other things you must be aware of before taking the real DELF, DALF, TCF exam.
4/ Study past DELF, DALF and TCF exams

As mock exams, past exams are really important for your preparation. You will get used to the structure of the paper and the language they use, work on your time management, get an idea of what's to come on the D-day and analyse where you stand regarding the exercises you're confident with or not.
Check past exams on the France Education International website, the creators of exams subject.
5/ Talk with native French speakers

Talking with a native French speaker will help you improve your oral comprehension, making you talk more easily and listen to the accent. You will be familiar with this new language and more than just helping you to speak it, it will give you an idea about the culture and the foreign way of thinking.
Alliance Française de Hong Kong also organises workshops focusing on speaking and phonetics for different level French learners. Check the workshops here and enrol now!
6/ Watch movies

Love our French Film Festival? Watching movies is one of the easiest ways to learn a language in a fun and easy way because you can plan it several times a week and you will combine the pleasant and the useful. The tip is to put the audio in the language you want to learn, and in case it's a bit too difficult for you, feel free to select your mother tongue subtitles.
Many French movies are available at the Allliance Française de Hong Kong library, feel free to come , pick one and learn French with our community! Here is a selection of French movies to watch! And stay tuned for the launch of the upcoming Hong Kong French Film Festival!
7/ Read books

As with movies, reading is a pleasant and easy-to-plan way of improving your language level. But the difference is that with books, you will improve your written skills by paying more attention to the words, the vocabulary, the expressions… An idea could be to read in the foreign language a book you've already read in your mother tongue, or a story you already know so that you won't be frustrated with misunderstanding the plot.
Come to AFHK library in Jordan to find a book matching your level, and take a look to the Bibliothèque de l'apprenant in which specific learning books are repertoried. You can also choose one and reserve it online.
Alliance Française de Hong Kong also organises French language workshop on French literature and culture (Focus on Littérature et Culture) for level B2+ students. Join us now!
8/ Visit website and social media

Reading a book or watching a movie can be difficult to plan during your day, when you only have a few minutes breaks. So you can use those times to consult websites, platforms, or social media.
For example, AFHK manages Student Portal which are platforms for students where you can retrieve course materials, chat with teachers and other students, and do your homework.
You can also follow Alliance Française de Hong Kong on Facebook, Instagram, LinkedIn, Twitter and YouTube to stay informed about AFHK French courses calendar, events and activities, French culture and learning tips!


9/ Read the press

Reading newspapers is a good mix between reading a book and consulting the media because on one hand you will improve your reading and writing skills, and on the other hand you will know more about hot topics and the country's culture.
You might find some of the daily broadsheets too challenging so one way is to read the press which is aimed at children and teenagers. For example, Le Petit Quotidien or 1 Jour 1 Actu are easy to read.
Come and leaf through those at the library, and feel free to ask our librarians for some advice!
10/ Use support tools correctly

Translation websites or automatic keyboards need to be used but in a smart way to be sure those tools are really helping you improve your language skills and not doing the work for you.
For example, you must use a recognised translation website such as Word Reference, and avoid translating entire sentences, focus only on the word you struggle with. Keep in mind that you won't have those tools during the exam so you need to develop your own automatisms.


We hope these tips will help you feel confident with your exams! Feel free to share your personal tips in the comment box below.
---
Learn French with Alliance Française de Hong Kong
Alliance Française de Hong Kong organises a wide range of French courses and French cultural workshops, including learning french with journal and French cinema! Stop hesitate and learn French with us.
Learn French Now! Learn French Now!