Cooking workshop : la Ratatouille (encore session)
Date: 22 Sep 2023, 7:00pm - 8:30pm (GMT+08:00) Hong Kong

AF Library, Jordan Centre
Friday, 22 September 2023
7 pm
In English with occasional French words / translation
For adults only
$280 - 20% off for AF members

---
A Classic from Provence
Due to high popularity, AF decided to open an extra session for the coming cooking workshops! For those who missed the first session, it's the time to grab a place!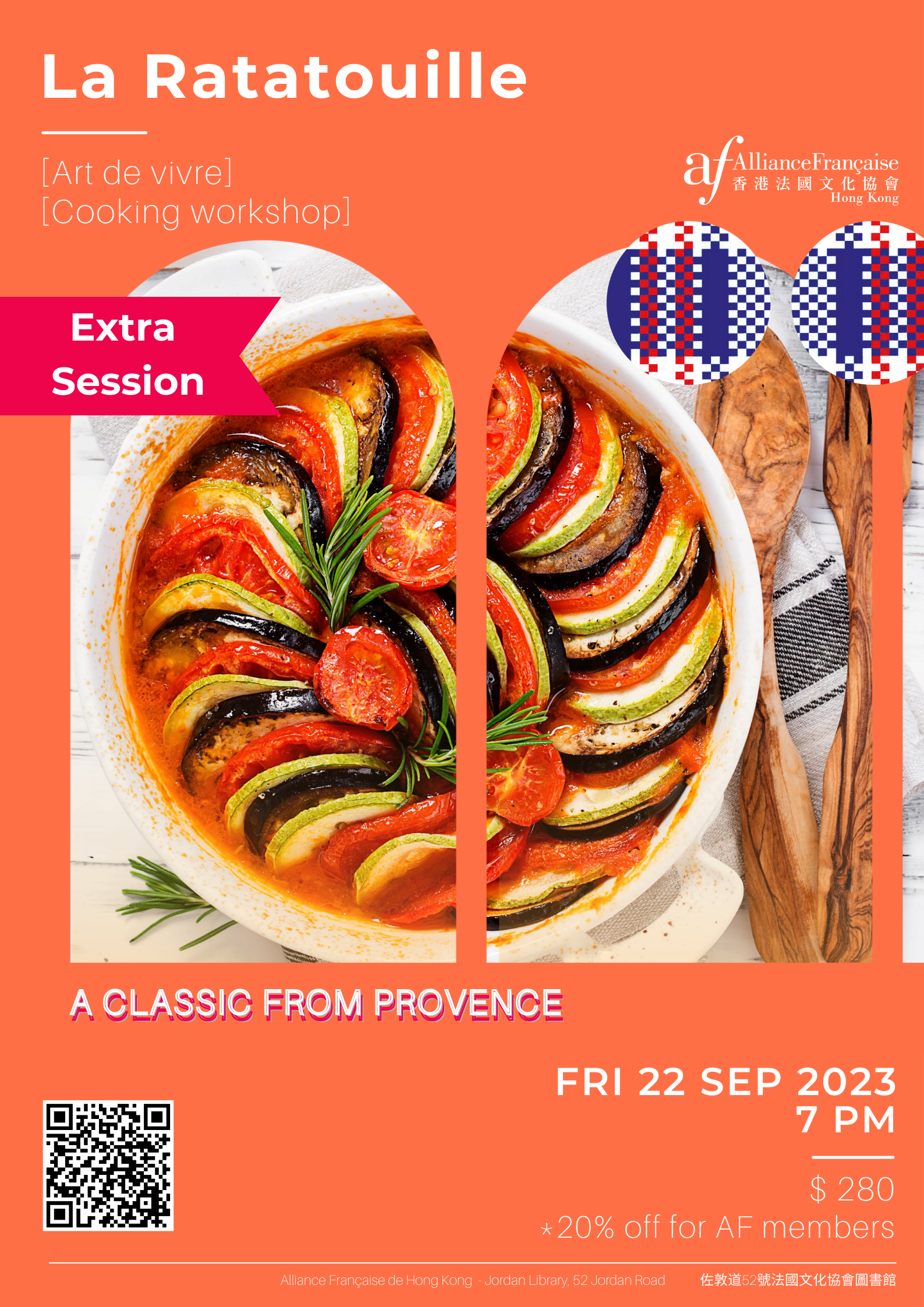 Come join us for the cooking workshop of one of the most famous Provençal dishs - La ratatouille !
The word Ratatouille derives from an Occitan word: "ratatolha" (chunky stew) and a French verb "touiller" (to stir). This traditional culinary specialty that originated in the Provence region, is not only a mix of stewed vegetables (courgette, eggplant, tomato, bell peppers, etc.) but also a French family favourite on the table. Of course, we are sure that many who are not connoisseur of gastronomy will remember the dish from the animated feature film about the rat chef Rémy! (But surprise! : the real dish has absolutely nothing to do with rats.)
This time, the AF kitchen will bring you a feast for the eyes with the colourful assortment of vegetables, and for sure, with its rich flavours of those fresh and nutritious ingredients to your palates!
With our French teacher and avid home cook Léopoldine, you will get to know all about this dish.
Though this is mainly a demo cooking class, you will have a chance to participate in stages of the preparation. Participants will also get a bilingual recipe in English & French so that you may try it at home!
Sorry, you've missed the RSVP deadline for this event.