Martinique & Guadeloupe: the French West Indies
Date: 24 Apr 2023, 7:00pm - 8:30pm (GMT+08:00) Hong Kong

---
AF Library, Jordan Centre
Monday, 24 April
7:00 - 8:30 pm
in French & English
Tout adults
$50 HKD (20% OFF for AF members & students)
---
Discover Caribbean islands culture : les Antilles françaises, the French West Indies
Dive into the Caribbean Sea through the history, culture, economy, dance, music, customs of the two sister islands located 15,600 km from Hong Kong, so far away and yet so close. If you wish to discover the exceptional exotic culture of Martinique and Guadeloupe, join us at Alliance Française for the talk and the Zouk Discovery Workshop: traditional dance from Martinique and Guadeloupe.


Venez plonger dans les eaux de la Caraïbe à travers l'histoire, la culture, l'économie, la danse, la musique, les coutumes des deux îles sœurs situées à 15 600 km de Hong Kong si éloignées et pourtant si proches. Si vous souhaitez découvrir la culture exotique exceptionnelle de la Martinique et de la Guadeloupe, vous êtes accueillés à participer à la conférence et à l'atelier de découverte du Zouk : danse traditionnelle de Martinique et des îles de la Guadeloupe.
La Martinique

Located in the heart of the West Indies between the island of Dominica in the North and that of Saint Lucia in the South, Martinique is 200 km from Guadeloupe. It differs from the other DOM (overseas departments of France) by its small size and the density of its population.

The history of Martinique is closely linked to the colonial expansion of Europeans in the Caribbean. The first occupiers were the pre-Columbian cassava farmers who came from the Orinoco basin, around the fifth century BC. These cultural groups are experiencing slow changes in their material culture.


Située au cœur de l'arc antillais entre l'île de la Dominique au Nord et celle de Sainte-Lucie au Sud, la Martinique se trouve à 200 km de la Guadeloupe. Elle se distingue des autres DOM (départements d'outre-mer de France) par sa petite taille et la densité de sa population.

L'histoire de la Martinique est étroitement liée à l'expansion coloniale des Européens dans la Caraïbe. Les premiers occupants sont les peuples précolombiens agriculteurs du manioc venus du bassin de l'Orénoque, vers le Ve siècle av. J.-C.. Ces groupes culturels connaissent de lentes évolutions de leur culture matérielle.

La Guadeloupe

Set on the arc of the Lesser Antilles, Guadeloupe is actually made up of an archipelago of seven islands. Karukera, as it is called in Native American, the main part, has the shape of a butterfly, to which are attached the Saints, Marie-Galante and the Desiderate.
Guadeloupe is a French overseas department, since the law of 19 March 1946. The department is divided into two districts (Basse-Terre and Pointe-à-Pitre), subdivided into 40 cantons and 32 communes (respectively 17 cantons, 18 communes and 23 cantons, 14 communes).


Posée sur l'arc des Petites Antilles, la Guadeloupe est constituée en réalité d'un archipel de sept îles. Karukera, comme on la nomme en amérindien, la partie principale, a la forme d'un papillon, à laquelle sont adjointes les Saintes, Marie-Galante et la Désirade.

La Guadeloupe est un département français d'outre-mer, depuis la loi du 19 mars 1946. Le département est découpé en deux arrondissements (Basse-Terre et Pointe-à-Pitre), subdivisés en 40 cantons et 32 communes (respectivement, 17 cantons, 18 communes et 23 cantons, 14 communes).


Zouk Discovery Workshop : Atelier de découverte du Zouk
The name Zouk is derived from the Antillean French Creole language, which means "Party"!
Zouk, popular dance music associated mainly with the Caribbean islands of Martinique and Guadeloupe, as well as Saint Lucia, Dominica, and Haiti, all in the French West Indies. The music blends a variety of Caribbean, African, and North American music styles.


Le nom Zouk est provient de la langue créole française des Antilles, qui signifie "Fête" !
Le Zouk, musique de danse populaire associée principalement aux îles caribéennes de la Martinique et de la Guadeloupe, ainsi que Sainte-Lucie, la Dominique et Haïti, toutes situées dans les Antilles françaises. La musique mélange une variété de styles musicaux caribéens, africains et nord-américains.


Speakers

Samanta GOMBAULD
Key Account and Event Manager at the French Chamber in Hong Kong
Samanta Gombauld was born in the Guadeloupe archipelago. At 18 years old, she moved 8,000 km far from home to pursue her education at the BBA INSEEC in Bordeaux where she obtained her Master degree in Marketing. In 2023, she decided to move to Hong Kong where she met Canélia Mbida who has been working there since 2019.

Canélia MBIDA
Membership Engagement Coordinator in SAC

Canélia grew up in Cameroon, where her father comes from, often traveled to Martinique where her mother comes from and nurtured a passion for China, the land of her ancestors who left motherland in the early 1800s! In 2019 she obtained a double Bachelor degree in International Management and Business Administration from NEOMA Business School in Reims and UIBE in Beijing.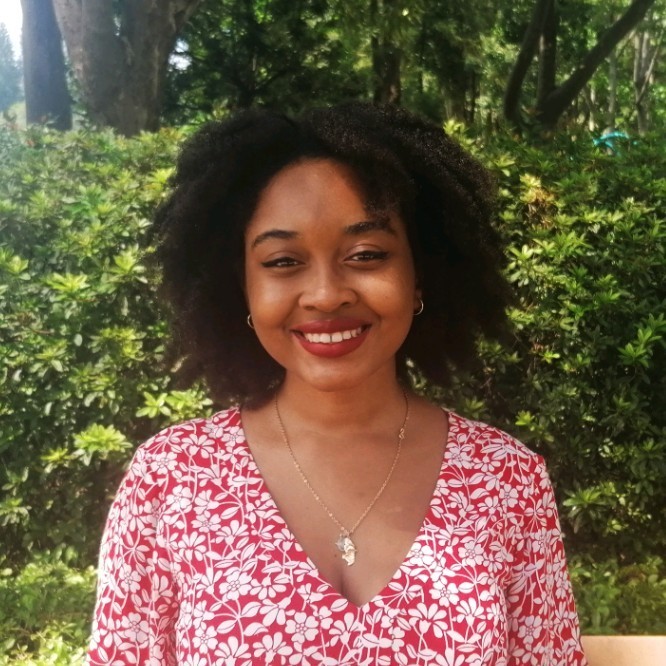 Sorry, you've missed the RSVP deadline for this event.