Cooking Workshop Kids : Crêpes de la Chandeleur
Date: 11 Feb 2023, 3:30pm - 5:00pm (GMT+08:00) Hong Kong

AF Library, Jordan Centre
Saturday, 11th February
3:30 - 5 pm
In English with French vocabulary / translation
For kids aged 8-12
$200 - 20% off for AF members
---
A French classic for the young chefs!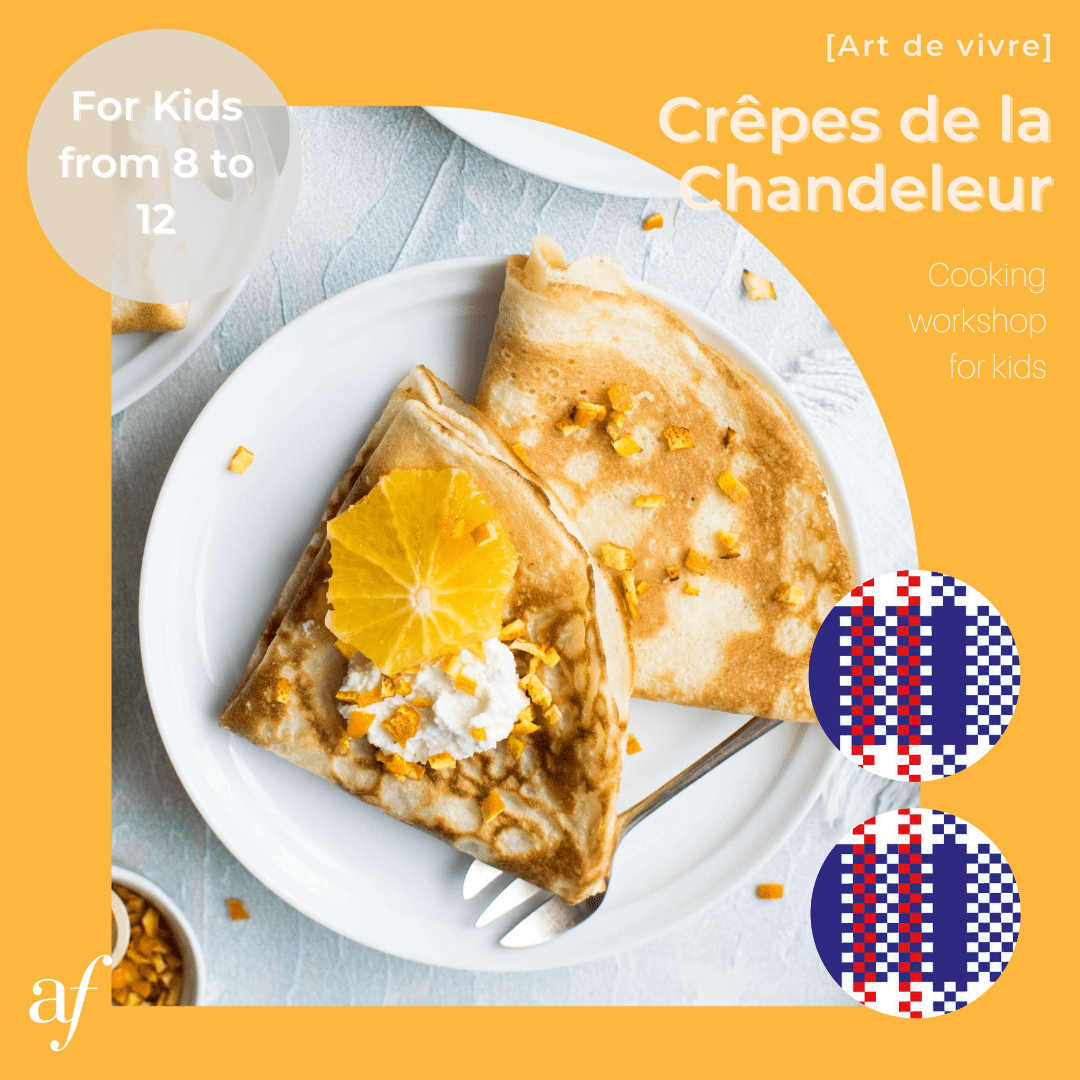 Crêpes are loved by many and one of the most sought-after cuisines among tourists travelling to France! Do you know there is even a festival that the French celebrate by eating crêpes?
On 2 February, which is 40 days after Christmas, everyone in France craves a crêpe as they commenmerate La Chandeleur (Candlemas). It was the date when baby Jesus was presented at the Temple, so traditionally many Christians bring candles (chandelles / bougies), which can shine bright and thus resemble Jesus as the Light of the World, to church during this religious holiday to be blessed.
So what do crêpes have to do with this holly fiesta? To answer this you may need some imagination! As we all shall know before a crêpe is folded into its very iconic flatten cone shape, it is actually a piece of golden and perfectly round pancake. Its original appearance reminds people of the Sun, the light, and inevitably the religion as well as the incoming Spring after the harsh winter! It is all about brightness for les crêpes!
The dessert can be matched with different types of fillings and toppings - chocolates, jams and fruits...you name it! It is usually accompanied by a cider drink (cidre).
Join us with our experienced French teacher and avid homecook Lywah to learn how how to make some crêpes through various French learning activities!
Though this is mainly a demo cooking class, you will have a chance to participate in stages of the preparation. Participants will also get a bilingual recipe in English & French so that you may try it at home!
Sorry, this event is exceeding its capacity.