Cooking workshop Kids : Gâteau au chocolat
Date: 19 Nov 2022, 3:30pm - 5:00pm (GMT+08:00) Hong Kong

---
AF Library, Jordan Center
Saturday, 19 November, 2022
3:30 - 5 pm
In English with some French words and expression.
For kids aged 8-12
$ 200 (20% OFF for AF members)

---
Cooking Workshop - Gâteau au chocolat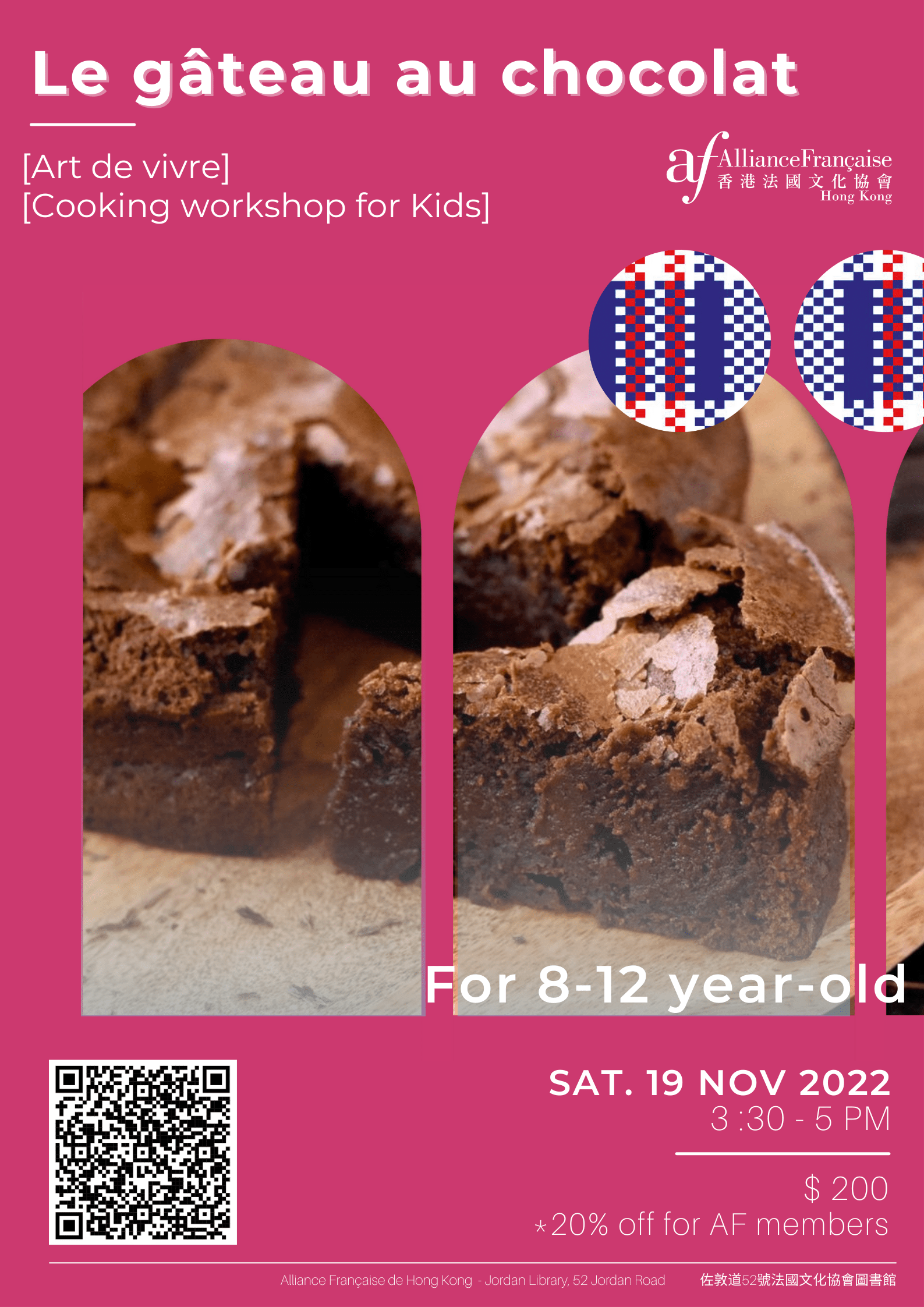 Welcome to our first demo-cooking workshop during this autumn in the AF kitchen!
Who could ever resist the feeling of a delicious bite of fluffy and creamy chocolate cake (gâteau au chocolat) melting in your mouth? Join our coming cooking workshop for kids to satisfy your sweet tooth!
This classical dessert appears in some of the most popular French picture books and children literatures, such as Ana Ana: Déluge de chocolat by Alexis Dormal and Dominique Roques and the book series of Le Petit Nicolas by René Goscinny andJean-Jacques Sempé. In the eyes of kids, chocolate cake is the symbol of playfulness and happiness, together with its pleasant aroma, few could be uncheered after a little taste of this dessert; imagine that now you have a chance to participate in the baking process and experience the great sweetened anticipation!
With our French teacher Lywah, at the same time a passionate home cook, you will get to know all that is about the dessert.
Though it's mainly a demo cooking class, you will have a chance to participate in stages of the preparation. You will also get a bilingual recipe in English & French so that you may try it at home.
Sorry, you've missed the RSVP deadline for this event.