Piano Masterclass by Niu Niu 牛牛鋼琴大師班
Date: 22 May 2021, 3:00pm - 4:30pm (GMT+08:00) Hong Kong

---
Recital Hall, The Hong Kong Academy for Performing Arts
Saturday, May 22nd, 3:00pm
Free (RSVP required)
---
"Hope & Harmony" by Niu Niu & Laurent Perrin - presented by French May Arts Fest, is going to spark on stage on May 27, 2021 (Thu). For this exceptional duo night, it will feature the Chinese pianist Niu Niu and the French cellist Laurent Perrin. Want to have a slight bite before this beautiful classical music feast? Here you will have a chance to appreciate a demonstration performance by Niu Niu at a closer distance!

Coaching Repertoire
即興曲 D.935 第三曲 Impromptu D.935 No.3 舒伯特 Franz Schubert (1797-1828) 演奏者 Performer: 林家泓 LIN Jia-hong (Junior Student)
《佩脫拉克十四行詩》之三首 作品104 Sonetto 104 del Petrarca 李斯特 Franz Liszt (1811-1886) 演奏者 Performer: 陳思慧 CHEN Si-hui (Junior Student)
《悲歌·作品五十九》 Dumka, Op.59 柴可夫司基 Peter Tchaikovsky (1840-1893) 演奏者 Performer: 梁俊晟 LEUNG Chun-shing (Junior Student)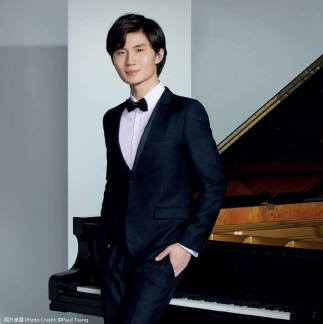 About Niu Niu
Niu Niu (aka Shengliang Zhang) was born in 1997 into a musical family in Xiamen. After showing talent at age three, Niu Niu initially studied piano with his father, making his recital debut at age six. At age eight, he became the youngest student ever to enroll in the Shanghai Conservatory of Music. Since age ten, Niu Niu has studied with Hung-Kuan Chen, initially at the Shanghai Conservatory of Music and later at the New England Conservatory of Music in Boston. In 2014, he entered the Juilliard School in New York under full scholarship and graduated with academic honor in 2018. He was the youngest pianist ever signed to the major classical label EMI Classics at 9. His debut album, Niu Niu Plays Mozart (2008), was followed by Niu Niu Plays Chopin—The Complete Études (2010), which marks him as the youngest pianist to record this classical repertoire. After signing with Universal Music Hong Kong in December 2017, his seventh album for its label Decca Classics was released in June 2018.
Sorry, you've missed the RSVP deadline for this event.