CHU Teh-chun Documentary screening
Date: 02 Jun 2021, 7:30pm - 9:00pm (GMT+08:00) Hong Kong

---
JC Cube, Tai Kwun
Wednesday, June 2nd, 7:30 pm
In French, English and Chinese with English subtitles
$95/ 20% off for AFHK Member (Free seating) - Tickets to be picked up at the entrance JC Cube from 6:30pm.
---
To celebrate the 100th anniversary of the Chinese-French abstract artist CHU Teh-Chun's birth, a documentary retracing his life is going to be screened at one of the iconic cultural venue in Hong Kong. Besides, a free exhibition of CHU Teh-Chun is happening at Alisan Fine Arts in Central from May 12 to July 10. Make sure you do not miss out either one! We will have a post-screening Q&A session with Yvon CHU, Vice President Fondation CHU Teh-Chun, Anne-Valérie Sceau, General Manager and Christophe Fonseca, Film Director.
CHU TEH-CHUN 朱德群
Documentary Film
Director : Christophe Fonseca
Producer : Les Films de L'Odyssée,  in collaboration with the Fondation CHU Teh-Chun
Country : France
Duration: 80 minutes
Year: 2020
An exceptional journey through the visual symphony of CHU's work.
This film is part of a major retrospective exhibition commemorating the centenary of the artist's birth in 1920.  Initially scheduled for April 2020 but postponed by a year due to the pandemic, the documentary screenings will follow the route of the travelling exhibition, starting in spring 2021 at the National Museum of China in Beijing) and then continuing to Asia, the Middle East, Europe and the United States. 
"My mother and I decided to participate in the making of this documentary to pay homage to my father and to highlight his work," explains Yvon Chu, the artist's son and Vice-President of the Fondation CHU Teh-Chun. "The aim of our foundation is to promote the work and history of this remarkable and multi-talented Franco-Chinese artist, and this is the first time that a film encompasses both his personal and artistic career."
When it came to choosing a director for the film, Yvon was captivated by Christophe Fonseca's writing and creative approach on watching his film about Camille Pissarro "Pissarro : sur les traces du père des Impressionnistes", (Pissarro, in the footsteps of the father of the Impressionists) - it was thus a natural progression to entrust the making of this film to him.
Who is CHU Teh-Chun?
CHU Teh-Chun (1920 - 2014)

"The artist absorbs what he sees in nature and refines it in his mind, and it is the power of the artist's imagination, his sensitivity and his inner character that is revealed on the canvas. This is where the concepts of Chinese painting and abstract painting come together very clearly ". CHU Teh-Chun

CHU Teh-Chun achieves the ideal synthesis between classical Chinese painting and Western abstraction in a very personal style, he gracefully pushes back the limits of the real and the unreal and manages to reconcile with pleasure painting, music and poetry.

In 1997, CHU Teh-Chun was elected to the Académie des Beaux-Arts in Paris, the first French of Chinese origin to sit under the dome. "He is the only painter of his generation to have gone so far in his research to create a symbiosis of his two cultures" explains François CHENG, poet, essayist and novelist, a great friend of CHU. In the tradition of Chinese painting, CHU Teh-Chun transcribes his thoughts and emotions by depicting the harmony between man and nature. Thanks to his discovery of Western painting, in 1955, he freed himself from figuration, enriched his palette with an immense variety of shades, becoming a master in the art of combining colors and integrating light into his paintings.

A prolific artist, he has produced more than 2,500 oils on canvas, works on paper, washes, calligraphy and ceramics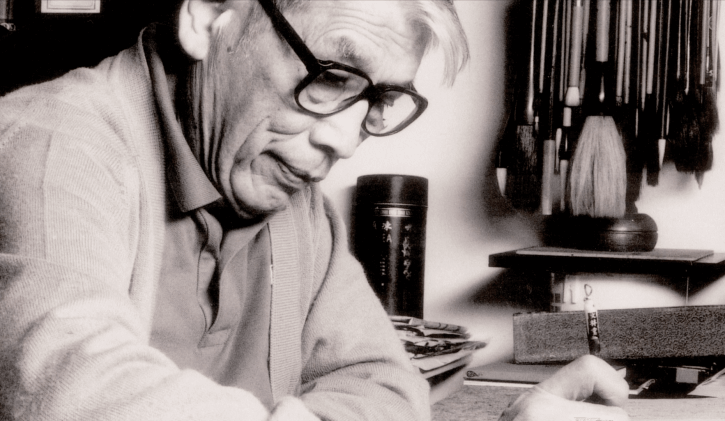 Trailer
Sorry, you've missed the RSVP deadline for this event.