Conférence : quelle crédibilité pour les médias à l'heure de l'infox?
Date: 11 Mar 2021, 7:00pm - 8:00pm (GMT+08:00) Hong Kong

Jordan Center Alliance Française de Hong Kong & Youtube Channel
March 11th, Thursday, 7pm - 8pm
Free Admission, RSVP required
In French

---
The Alliance Française de Hong Kong is teaming up with Agence France-Press to organise a discussion around the theme Media accountability in the era of fake news. The conference will be held in French and will feature Philippe Massonnet, director of AFP Asia-Pacific, along with Julien Devaureix, host of the Sismique podcast, a podcast focused on global issues and the main challenges of our time.
The event will take place face-to-face at the Jordan Library as well as live on Youtube.

Dans le cadre de la francophonie l'Alliance Française de Hong Kong s'associe à l'Agence France-Presse et organise une discussion autour de la problématique. Quelle crédibilité pour les médias à l'heure des infox? La conférence fera intervenir Philippe Massonnet, directeur de l'AFP Asie-Pacifique et Julien Devaureix, l'animateur du podcast Sismique, un podcast centré sur les questions mondiales et les principaux défis de notre époque.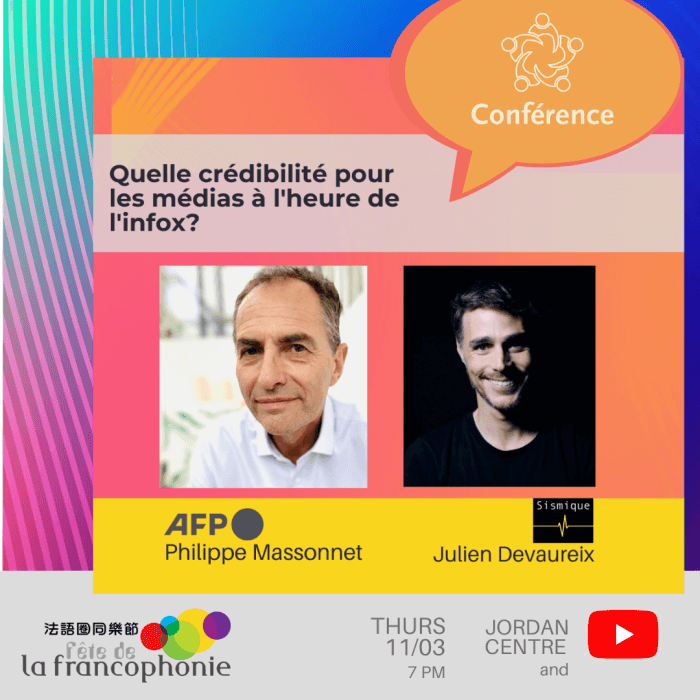 Sorry, you've missed the RSVP deadline for this event.