Ciné-club - Drôle de Drame
Date: 09 Sep 2020, 7:00pm - 9:00pm (GMT+08:00) Hong Kong

---
AF Library, Jordan Centre
September 9th
7 - 9 pm
In French with English subtitles
Free
---
After some unfortunate delay, the Ciné-club is finally back!
Directed by Marcel Carné in 1937 with Michel Simon, Louis Jouvet, Françoise Rosay and Jean-Louis Barrault. Screenplay and dialogues by Jacques Prévert.
Duration: 1h 50 min
In a comedy-farce that runs from black humor to slapstick, this story is one in which a mystery writer is caught unawares by his cousin, a vicar, who shows up unannounced for a visit. Since the servants have just walked out, the writer's wife hides out from the vicar, taking care of the cooking, cleaning and other household chores. To explain his wife's absence as hostess, the writer concocts an excuse which only makes the vicar convinced that he has done away with his spouse. Things go from bad to worse and eventually Scotland Yard is called in to clear things up.
Watch the trailer and an extract here:

Literary scholar Carole Aurouet comments on the screenplay by renowed writer and poet Jacques Prévert:
« Ce qui frappe d'emblée dans ce film, c'est le sens percutant de dialogues qui détournent les lieux communs. Ceux-ci sont parfois présents sous la forme de leitmotiv tels que « A force d'écrire des choses horribles, les choses horribles finissent par arriver » (Michel Simon/M. Molyneux) ou encore « Vous lisez les mauvais livres écrits avec la mauvaise encre du mauvais esprit » (Archibald Soper, l'évêque de Bedford/Louis Jouvet). Les effets recherchés sont évidemment comiques – la répétition y contribue – et corrosifs, servant le propos général du film. Prévert se fait plaisir, et son plaisir est communicatif. Il n'en dit pas moins dans un registre apparemment léger des choses essentielles, au service d'une thématique libertaire. Il écorne la morale bien pensante des milieux bourgeois. On retiendra aussi de Drôle de drame, l'une des répliques les plus célèbres du cinéma français d'avant-guerre : « Moi, j'ai dit bizarre… bizarre ? Comme c'est étrange… Pourquoi aurais-je dit bizarre… bizarre… » (Bedford/Jouvet). »
« Jacques Prévert, portrait d'une vie » de Carole Aurouet.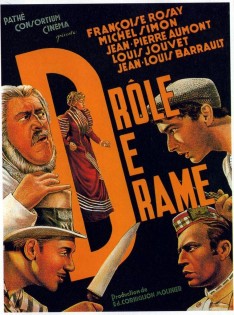 Sorry, you've missed the RSVP deadline for this event.