Official Exams & Tests
Have your level of French recognised FOR LIFE!

Get your level recognized by international standards at Alliance Française de Hong Kong, the only Official center of French Exams and Diplomas in the city.
The DELF and the DALF have been organized at Alliance Française de Hong Kong since the early 90s.
It is a widely recognized diploma based on the levels of the Common European Framework for Languages (CEFR).
The DELF has 4 independent units: A1, A2, B1, B2. The DALF has 2 independent units: C1 and C2.
More than 500,000 people pass the DELF exam every year. Every DELF has the same value and is valid for life!
Here is the display of DELF & DALF Diplomas' structure following its versions: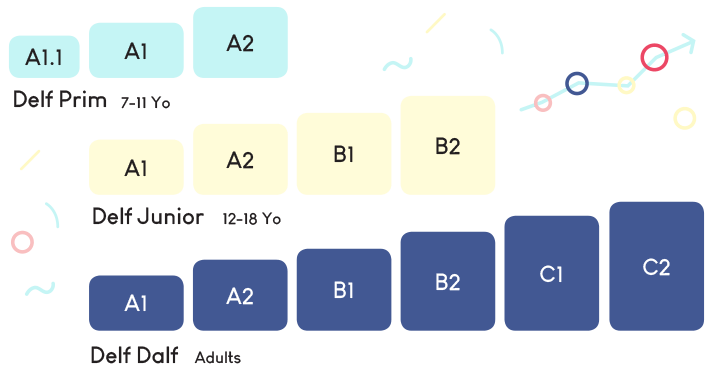 DELF & DALF
DELF certification are internationally recognised and may qualify for credits under various educative systems in the world, like in Canada, in BC. See for example the British Columbia Ministry of Education External Credentials Program (type keyword: Delf). This means that passing the DELF grants you or your children extra chances for entering the best Universities in a series of countries.
If you are thinking about studying and living abroad in Québec, you can now reimburse your course at Alliance Francaise Hong Kong if you fulfill the requirement of Ministère de l'Immigration, de la Francisation et de l'Intégration du Québec. Check their website to see how to obtain a reimbursement. 
---
TCF
We also offer International testing services: the TCF.

It is a French language competency evaluation test. It provides a snapshot analysis of the candidate's level of proficiency.
TCF is some sort of linguistic photography of their level in French at the time the test is taken.
The Certificate of Achievement is valid for 2 years. It does not require specific study.