Dem Dem ! : cinéma belge et débat
Date: 16 Mar 2023, 7:30pm - 9:00pm (GMT+08:00) Hong Kong

---
Médiathèque / AF Library, Jordan Centre
Jeudi, 16 mars / Thursday, 16 March
7:30 - 9:00 pm
en français et wolof sous-titré en anglais / in French & Wolof with English Subtitles / Talk in english
Tout public / for all ages
Gratuit ; RSVP obligatoire / Free ; RSVP necessary
---
Cinéma francophone : Belgique
Dem Dem !
Réalisateurs : Pape Bouname Lopy, Christophe Rolin, Marc Recchia and Pape Lopy

Année : 2017
Genre: Comédie
Durée: 25 mins

Synopsis
Matar, un pêcheur sénégalais, trouve dans la mer le passeport d'un Belge d'origine africaine. Il décide de l'utiliser et se met en tête de lui ressembler. Au fil des jours, l'apparence du pêcheur change. Il devient de plus en plus énigmatique aux yeux de sa femme Nafi.
Matar, a Senegalese fisherman, finds the passport of a Belgian of African origin in the sea. He decides to use it and impersonate him. As time goes by, the appearance of the fisherman changes. He becomes more and more enigmatic in the eyes of his wife Nafi.
Palmarès African Movie Academy Award du meilleur court métrage
Bande annonce
Talk after screening
Myriam Mwizerwa
Head of Sub-Office at the International Organization for Migration.

Uncle Salt (Corrup the Youth)
YEUNG Chun-Yin, nicknamed "Salt" or "Uncle Salt" in Cantonese, graduated from Faculty of Social Sciences, University of Hong Kong and Department of Philosophy, Chinese University of Hong Kong; and further studied a PhD Programme in Humboldt University of Berlin and King's College London. In 2016, Uncle Salt and his comrades established "Corrupt the Youth" and started to host "Philosophy Night" on RTHK 31, which aims to introduce philosophy to the general public. He is now teaching philosophy and critical thinking courses in various tertiary institutions in Hong Kong.
Florence de Changy
Florence de Changy est journaliste, correspondante de France Info, du Monde et de RFI en Asie, basée à Hong Kong
Son ouvrage, Dans son livre, "Le vol MH370 n'a pas disparu" (2016), la journaliste remet en cause la théorie officielle de la disparition du vol MH370 de la Malaysia Airlines le 8 mars 2014.
Ses derniers articles pour Le Monde
Jamie CHAU
Jamie CHAU is now a Research Fellow at the Centre for Cultural Research and Development (CCRD) as well as a part-time lecturer at the Department of Cultural Studies at Lingnan University. Meanwhile, he is a final-year PhD candidate in Gender and Cultural Studies at the University of Sydney.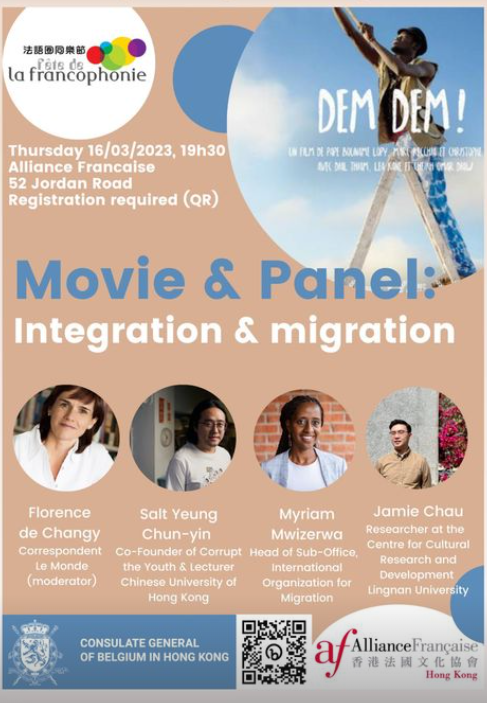 Sorry, you've missed the RSVP deadline for this event.