Cooking workshop - Bûche de Noël au chocolat
Date: 09 Dec 2022, 7:00pm - 8:30pm (GMT+08:00) Hong Kong

AF Library, Jordan Centre
Friday, 9 December 2022
7 pm
In English with occasional French words / translation
For adults only
$280 - 20% off for AF members

---
Christmas Cooking Workshop - Bûche de Noël au chocolat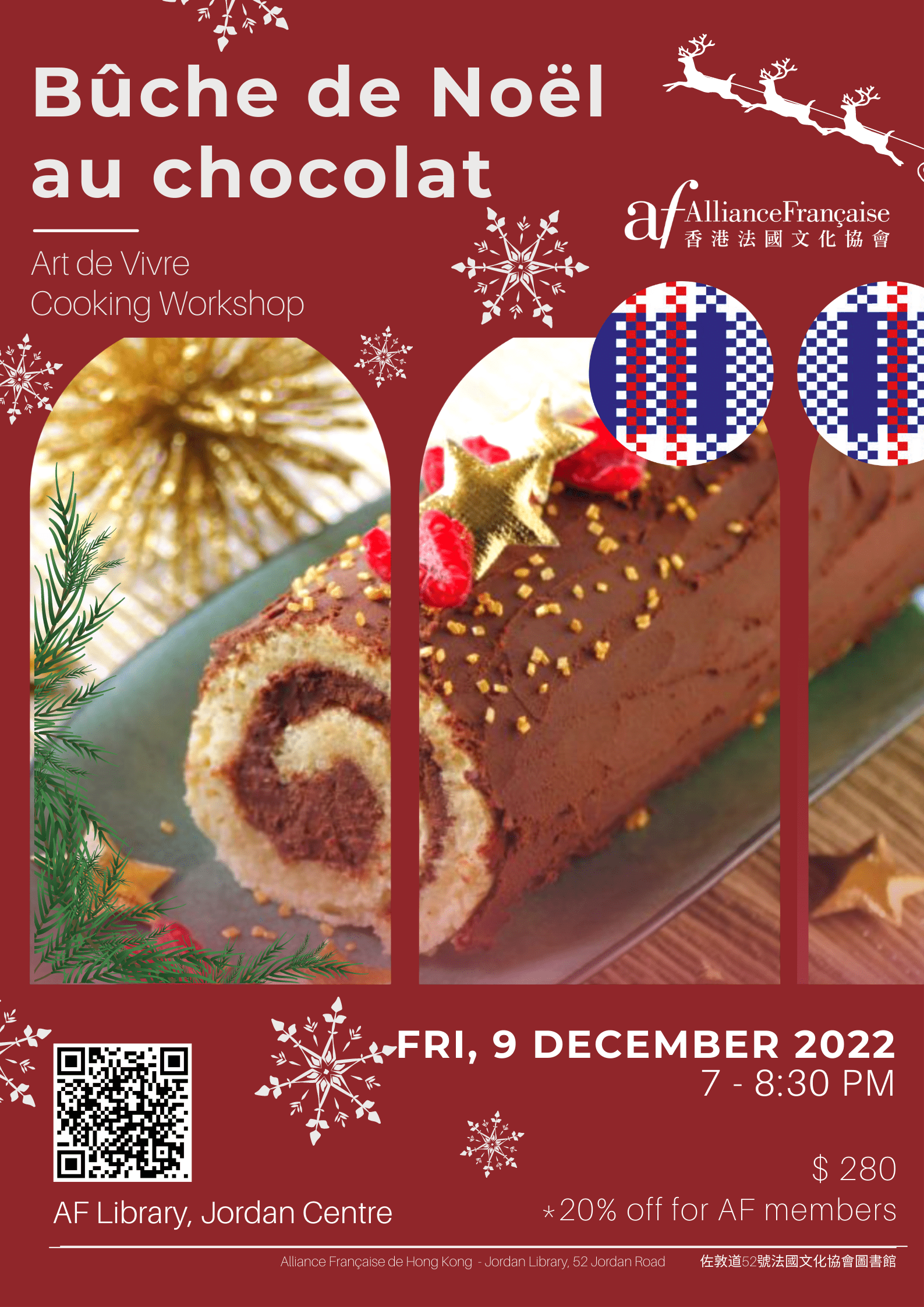 'Tis the festive season to be jolly and bring some sweet magic to the dining table!
Making a Christmas chocolate yule log (bûche de Noël au chocolat) cake has long been a holiday culinary tradition in many French households dating back to the country's medieval times. Though in the old days, instead of savouring the wood-resembling dessert, people actually threw part of the literal tree trunk of usually an oak tree from the forest to the centre of the fireplace! As the log burned and lighted up the house throughout the night they celebrated that there would always be the return of the sun (le soleil) each day after the prolonged darkness in winter.
In our AF kitchen, hope you agree that perhaps we have more to celebrate besides the rising sun during the festivity! And we certainly welcome you to celebrate with us with the mentioned merry Christmassy roll, which may ring your bell and simply remind you of that happy time of the year!
With our French teacher and avid home cook Delphine, you will get to know all about this dessert.
Though this is mainly a demo cooking class, you will have a chance to participate in stages of the preparation. Participants will also get a bilingual recipe in English & French so that you may try it at home!
Sorry, you've missed the RSVP deadline for this event.