EU Book Club : Happening by Annie Ernaux
Date: 25 Feb 2023, 4:00pm - 7:00pm (GMT+08:00) Hong Kong

AF Library, Jordan Centre
Saturday, 25 February, 2023
Screening : 4 pm / Talk : 5:45 pm
Talk in English / Film in French with English subtitles
For adults only
$50 (Free for AF members)


---
When Literature Meets Film : Screening & Talk
The event will be the third chapter of the EU Book Club, a collaboration between Italy, Germany and France, combining literature and film. After the first two talks and screenings organised by our Italian and German counterpart - "Clash of Civilizations over an Elevator in Piazza Vitorio" by Amara Lakhous and "The Collini Case" by Ferdinand von Schirach respectively, AFHK is happy to present "Happening (L'Evénement)" by the lastest laureat of the Nobel Prize in Literature, Annie Ernaux.
"Happening" is one of the writer's masterpieces. In a first-person narrative she revisits her struggle as a young woman 40 years ago to resolve her predicament: pregnancy and abortion. It was adapted into a film by French director Audrey Diwan, which went on to win the Golden Lion at the Venice Film Festival in 2021.
Two guest speakers, Uncle Salt, from Corrupt the Youth, and Dr Sabrina Yeung (Assistant Professor, Department of Chinese, HSUHK) will discuss with the audience various issues, literary and social, raised in the original novel and also the film adaptation, after the film screening.
Author & Book : Happening by Annie Ernaux

Annie Ernaux is born in 1940 in Normandy. The French writer is known for her uncompromising and clinically clean writings, always attempting to widen the boundaries of literature beyond fiction in the narrow sense. Her works shift between memoir and fiction, the personal and the collective, and her ambition goes beyond fiction-writing to dissect and confront the sociological and historical forces working in the society at a particular time. She is the winner of the Nobel Prize in Literature in 2022
She is ruthless in "Happening" where she revisits, 40 years later, the agonizing experience of being pregnant and unattached at the age of 23. Sifting through her memories and journal entries dating from those days, she tries to glean meanings in that experience.
We have a few of the books in original French version for sale. Click to check availability or purchase.
Purchase the book
Purchase the book
You may also head to the following bookshops to purchase different editions of the book:
French & English version : Parenthèses
English & Chinese version : Eslite Bookstore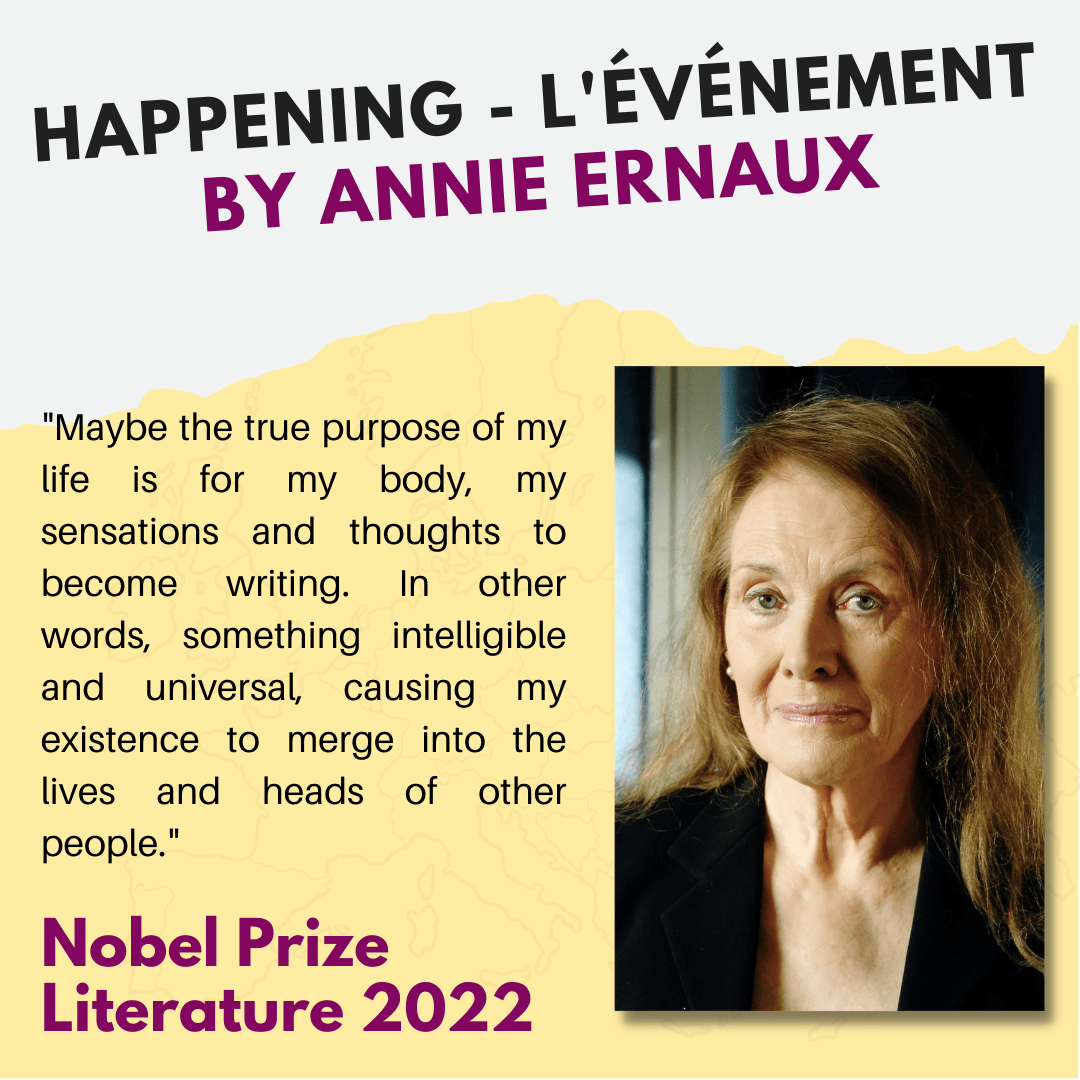 Film Adaptation
Director : Audrey Diwan
Year : 2021
Duration : 100min
Award: Golden Lion, Venice FIlm Festival, 2021
Trailer :
Guest Speakers
Dr YEUNG Choi Kit, Sabrina :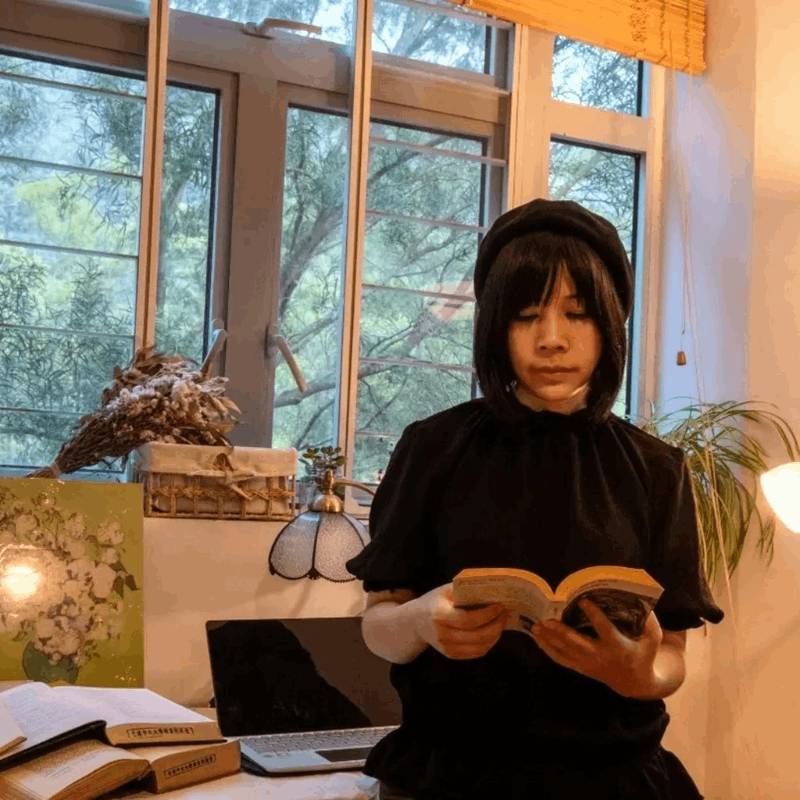 Sabrina specialises in Comparative and Modern Chinese Literature. She received her Master and PhD from University of Paris-Sorbonne. Before joining HSMC, she taught in the Chinese University of Hong Kong.
YEUNG Chun-Yin (Uncle Salt) :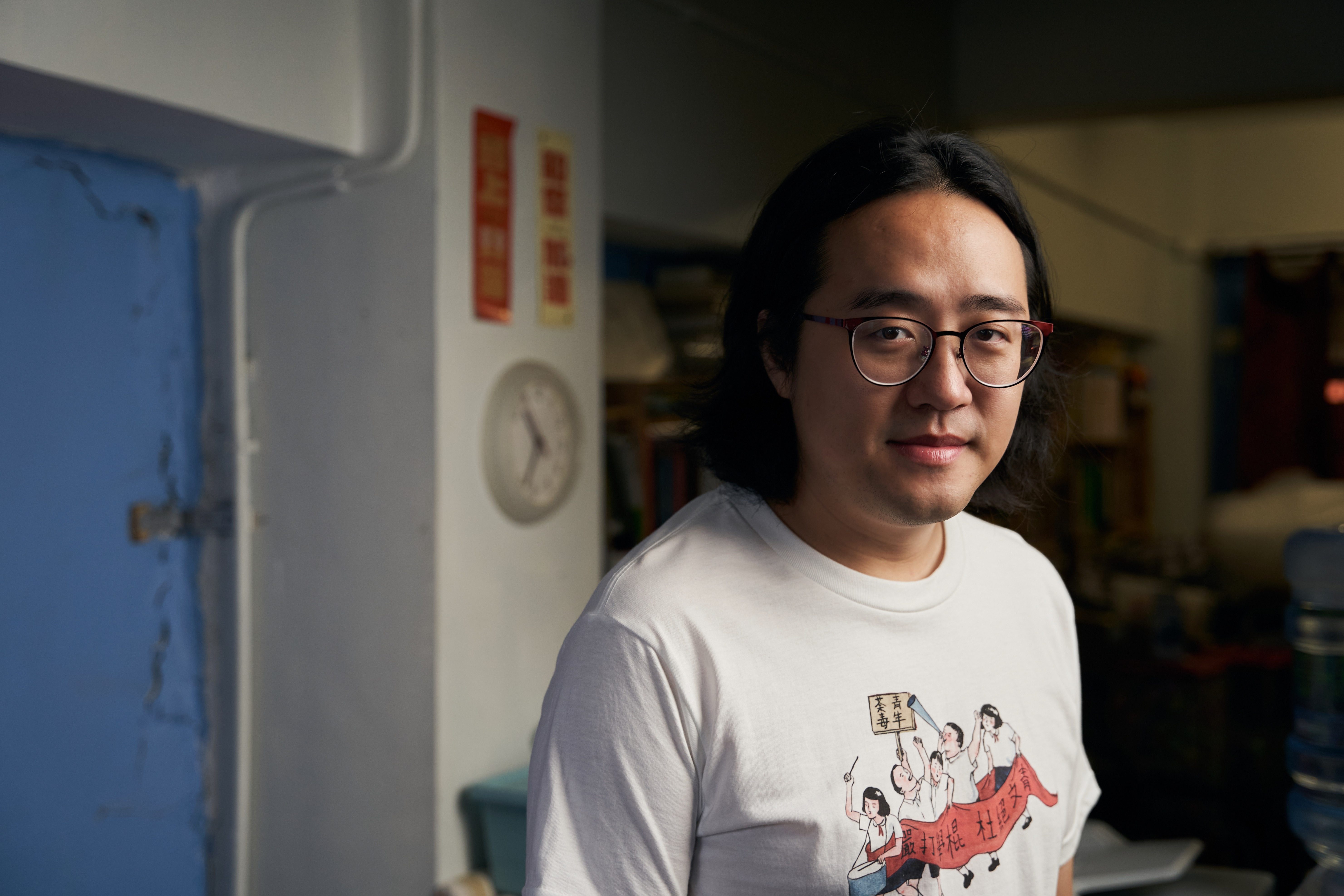 YEUNG Chun-Yin, nicknamed "Salt" or "Uncle Salt" in Cantonese, graduated from Faculty of Social Sciences, University of Hong Kong and Department of Philosophy, Chinese University of Hong Kong; and further studied a PhD Programme in Humboldt University of Berlin and King's College London. In 2016, Uncle Salt and his comrades established "Corrupt the Youth" and started to host "Philosophy Night" on RTHK 31, which aims to introduce philosophy to the general public. He is now teaching philosophy and critical thinking courses in various tertiary institutions in Hong Kong.
We have a few of the books in original French version for sale. Click to check availability or purchase.
Purchase the book
Purchase the book
You may also head to the following bookshops to purchase different editions of the book:
French & English version : Parenthèses
English & Chinese version : Eslite Bookstore
Have an Account? Click here to Login

You must RSVP by 25 Feb 2023 4:00pm
Please indicate your intention to attend this event below: