Cooking workshop - Le hachis-parmentier
Date: 25 Oct 2022, 7:00pm - 8:30pm (GMT+08:00) Hong Kong

---
AF Library, Jordan Center
Tuesday, 25 October, 2022
7 - 8:30 pm
In English with some French words and expression.
For adults only
$ 280 (20% OFF for AF members)

---
Welcome to our first demo-cooking workshop during this autumn in the AF kitchen!
Le hachis parmentier, a traditional French savory dish, brings many warm and fond memories to French families as they gather around the dinner table during a chilly wintry weather.
Le hachis parmentier, sometimes translated into cottage pie or Shepherd's pie in English, is composed of mashed potato (purée de pommes de terre) and minced meat (viande hachée); very often beef (bœuf) is used. It is named after the apothecary Antoine-Augustin Parmentier who, convinced that tubers, notably potatoes, can help fight the famine problem, introduced the dish to Louix XVI.
Before that, potatoes were not at all popular in France, and were at one point, legally banned. It was thanks to this man, who had to consume potatoes, and often only potatoes, during his imprisonment by the Prussians during the Seven Years' War, that the vegetable was rediscovered and reintroduced in France (and eventually became a solution for the food crisis.)
The dish was probably born in Paris. It gained its reputation in many brasseries in the capital who made and perfected the dish; some chefs improved it by using other meats, new vegetable and spices.
With our French teacher Claudia, at the same time a passionate home cook, you will get to know all that is about the dish.
Though it's mainly a demo cooking class, you will have a chance to participate in stages of the preparation. You will also get a bilingual recipe in English & French so that you may try it at home.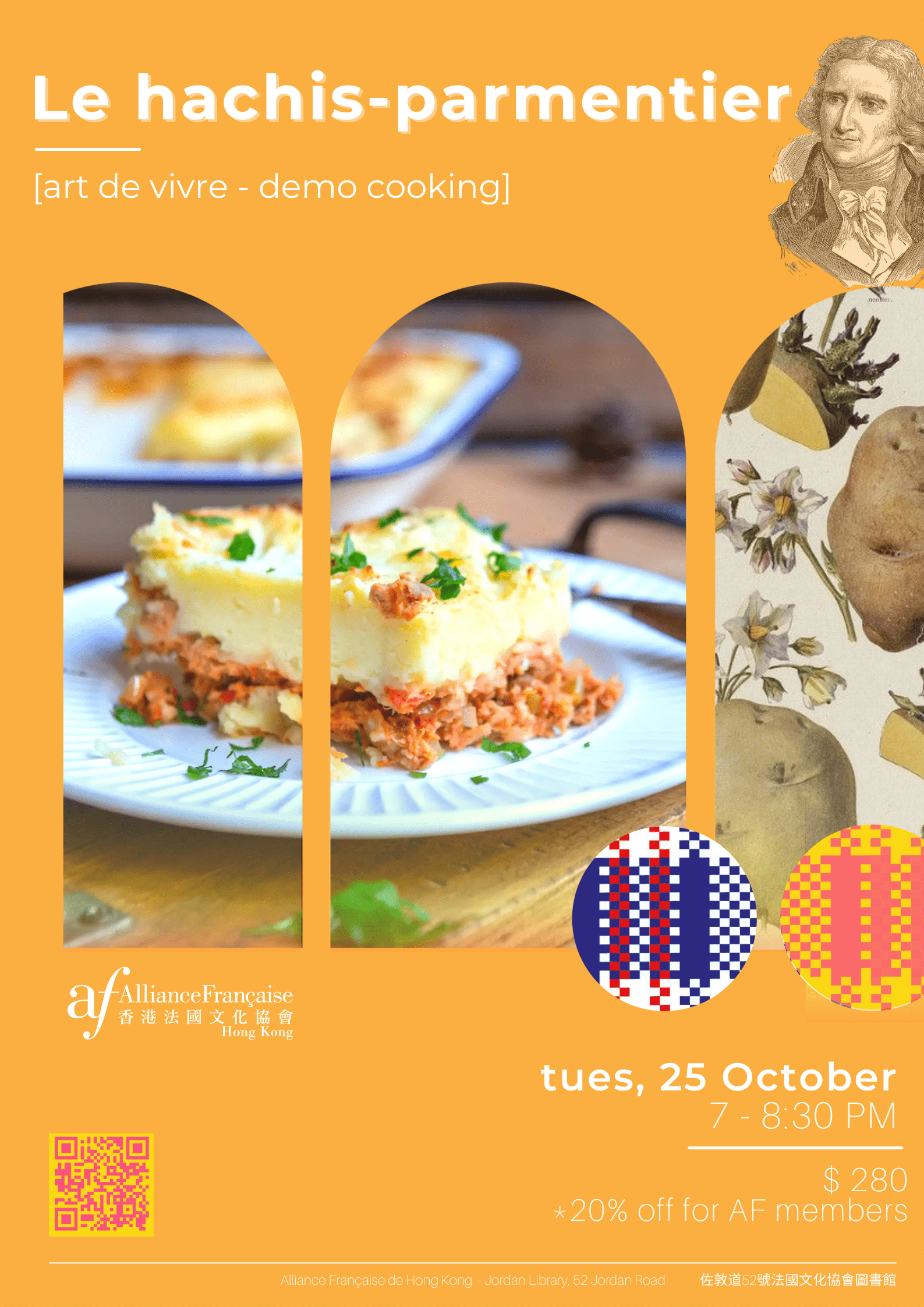 ---
*Participants must follow the anti-pandemic measures and arrangements by the Organiser. The arrangement of activity is possible to be changed in light of COVID-19 and government measures.

1. A face mask must be worn at all times and your body temperature must be checked at the entrance on the ground floor at the reception before entry.
2. The use of the "LeaveHomeSafe (LHS)" app is mandatory. You must also present a valid printed or digitally stored COVID-19 vaccination record or Medical Exemption Certificate QR code as instructed by our staffers.
3. All Vaccine Pass (VP) requirements will be observed (unless you are exempt): for further details, please click here.
4. The decisions of Alliance Francaise de Hong Kong will be final and prevails.
Sorry, you've missed the RSVP deadline for this event.