Conférence : Littérature de Hong Kong
Date: 10 Nov 2022, 7:00pm - 8:30pm (GMT+08:00) Hong Kong

---
AF Library, Jordan Center / Zoom (Guest Speakers will be online)
Thursday, 10 November 2022
7 - 8:30 pm
In French
Free; RSVP
All registered individuals who have indicated "Mode of participation: Online" should have already received an email with the Zoom link. If not, the Zoom link will be available here 2 hours before the event.
Link Link
---
Présentation de l'anthologie de Jentayu sur la littérature hongkongaise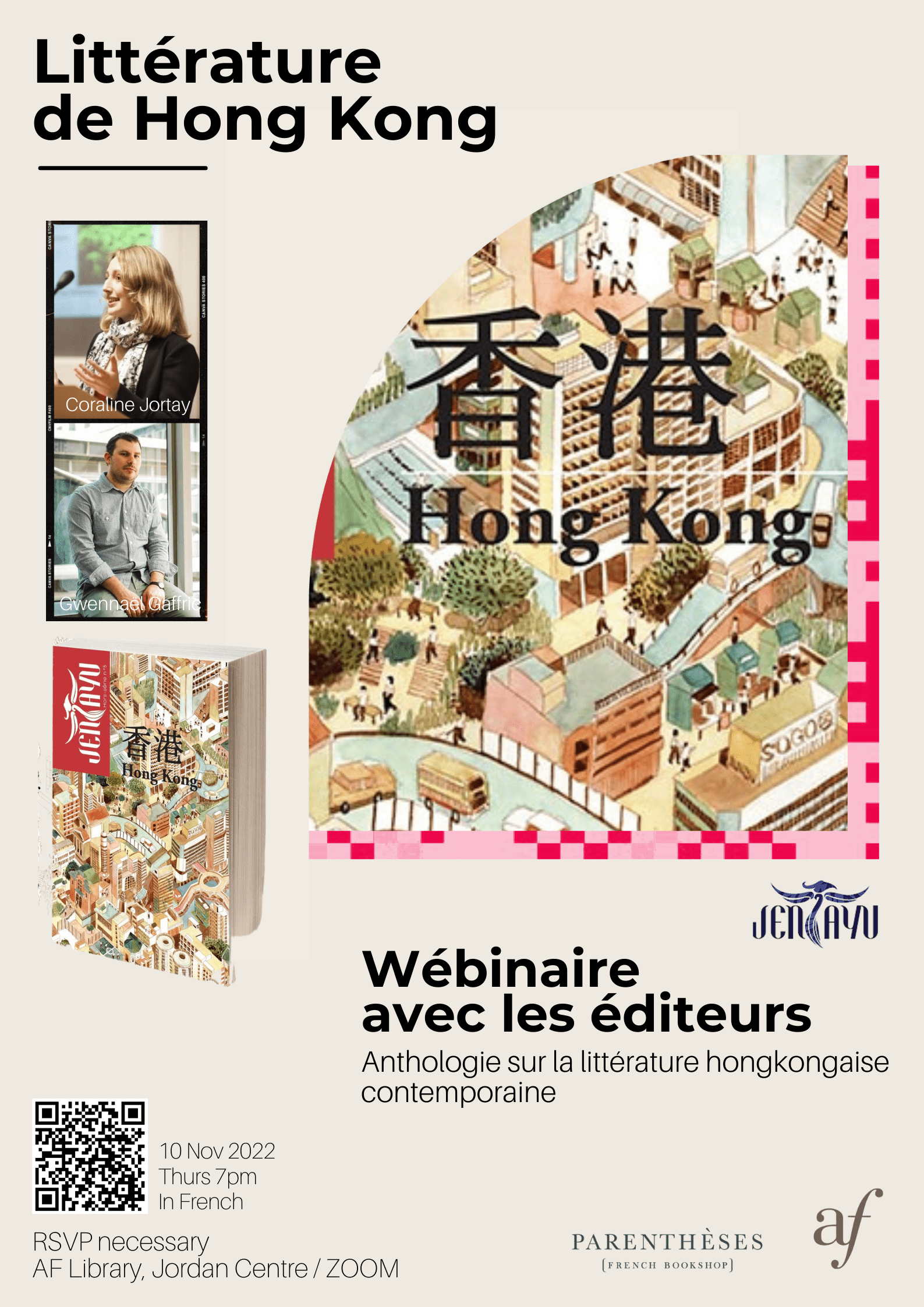 De nombreux pays et régions asiatiques sont sous-représentés dans le monde du livre français. Hong Kong en fait malheureusement partie. Sa littérature souffre toujours dans le monde francophone d'un manque de réception criant malgré sa richesse littéraire et linguistique.
Pour résoudre cette difficulté, est publiée, à propos, l'Anthologie sur la littérature hongkongaise chez Jentayu, ouvrage qui nous fera (re)découvrir des écrivains locaux ainsi que leurs oeuvres marquantes .
À cette occasion, nous vous convions à une conférence-wébinaire, avec la présence en ligne des deux éditeurs Coraline Jortay et Gwennaël Gaffric, non seulement traducteurs littéraires chevronnés mais aussi spécialistes universitaires des lettres chinoises.
Nous parlerons de littérature de Hong Kong et de Chine, du milieu littéraire en France et des enjeux de traduction.
Lisons Leung Ping-kwan (梁秉鈞/也斯 ), Xi Xi (西西), Dung Kai-cheung (董啟章), Chan Ho-kei (陳浩基), Leung Lee-chi (梁莉姿), Dorothy Tse (謝曉紅), Hon Lai-chu (韓麗珠)...... pour n'en nommer que quelques-uns.
---
En partenariat avec la librairie Parenthèses, cet événement est organisé autour de la sortie de ce recueil.
Une soirée de lancement et de lecture, en présence d'écrivains locaux, aura lieu le vendredi 11 novembre dans les locaux de la librairie, avec Dung Kai-Cheung, Dorothy Tse, Lawrence Pun, Wong Yi, en présence de Louise Law, Nicholas Wong et Tammy Ho Lai-Ming.

Voir le lien pour l'événement.

Jentayu hors-série n°5 : Hong Kong

Cette anthologie donne un aperçu rare de la littérature hongkongaise contemporaine, vingt-cinq ans après la rétrocession de Hong Kong à la Chine. Entrelaçant poèmes et nouvelles d'une quinzaine d'auteurs issus de générations diverses, elle offre au lecteur une succession de lignes de fuite, chacune esquissant les contours d'une spécificité de l'histoire et de l'identité hongkongaises. Alors que cette « âme » hongkongaise est aujourd'hui en pleine recomposition, le temps est venu de marquer un point d'étape, avant que d'autres lendemains – plus ou moins radieux – ne s'écrivent... Un recueil richement illustré, édité par Coraline Jortay et Gwennaël Gaffric et préfacé par Gregory B. Lee.
Pour en savoir plus sur la maison d'édition et la révue : http://editions-jentayu.fr/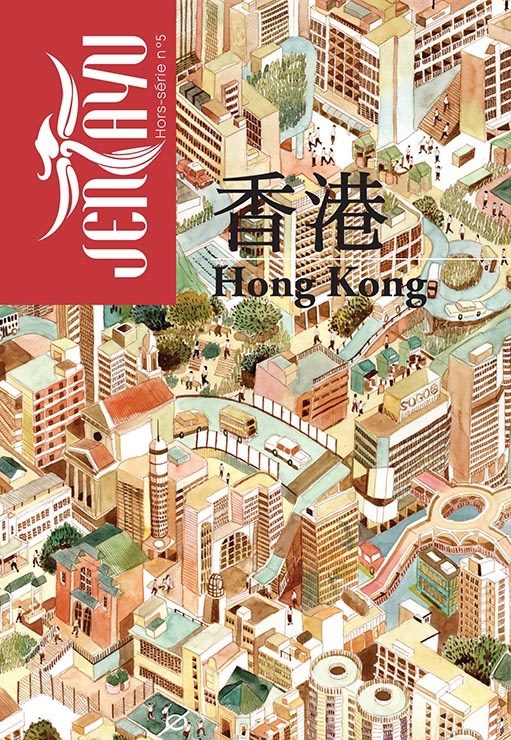 Intervenante : Coraline Jortay
Elle est Laming Junior Research Fellow au Queen's College de l'Université d'Oxford. Également traductrice littéraire, elle a remporté les 2e et 3e prix du Concours international de traduction de la Chine 2013 avec les nouvelles « Là-haut » de Wang Xiangfu, et « La lettre » de Liu Qingbang. Outre Les sentiers des rêves de Walis Nokan (Asiathèque, 2018), elle a traduit différentes nouvelles d'auteurs taïwanais tels que Kan Yao-ming, Tong Wei-ger (Jentayu, 2018), Sabrina Huang (Magellan & Cie, 2018), Shu Kuo-chih (Asiathèque, 2017) ou encore Chi Ta-wei (Asiathèque, 2020).

Intervenant : Gwennaël Gaffric
Il est traducteur littéraire et docteur en études transculturelles. Il a traduit plusieurs romans, recueils de poésie et de nouvelles venus de Taïwan, de Hong Kong et de Chine. Spécialiste de science-fiction en langue chinoise, il est actuellement professeur associé en études chinoises à l'Université Jean Moulin de Lyon et s'intéresse aux nouveaux espaces d'expression littéraire dans le monde sinophone.
---
*Participants must follow the anti-pandemic measures and arrangements by the Organiser. The arrangement of activity is possible to be changed in light of COVID-19 and government measures.

1. A face mask must be worn at all times and your body temperature must be checked at the entrance on the ground floor at the reception before entry.
2. The use of the "LeaveHomeSafe (LHS)" app is mandatory. You must also present a valid printed or digitally stored COVID-19 vaccination record or Medical Exemption Certificate QR code as instructed by our staffers.
3. All Vaccine Pass (VP) requirements will be observed (unless you are exempt): for further details, please click here.
4. The decisions of Alliance Francaise de Hong Kong will be final and prevails.
Sorry, you've missed the RSVP deadline for this event.