Photo Exhibition on the French New Wave
Date: 8 Nov 2019 12:30am - 24 Nov 6:00pm (GMT+08:00) Hong Kong

Hong Kong Arts Centre, Experimental Gallery
7-24 november 10 am - 6 pm.
Entrée gratuite - Free admission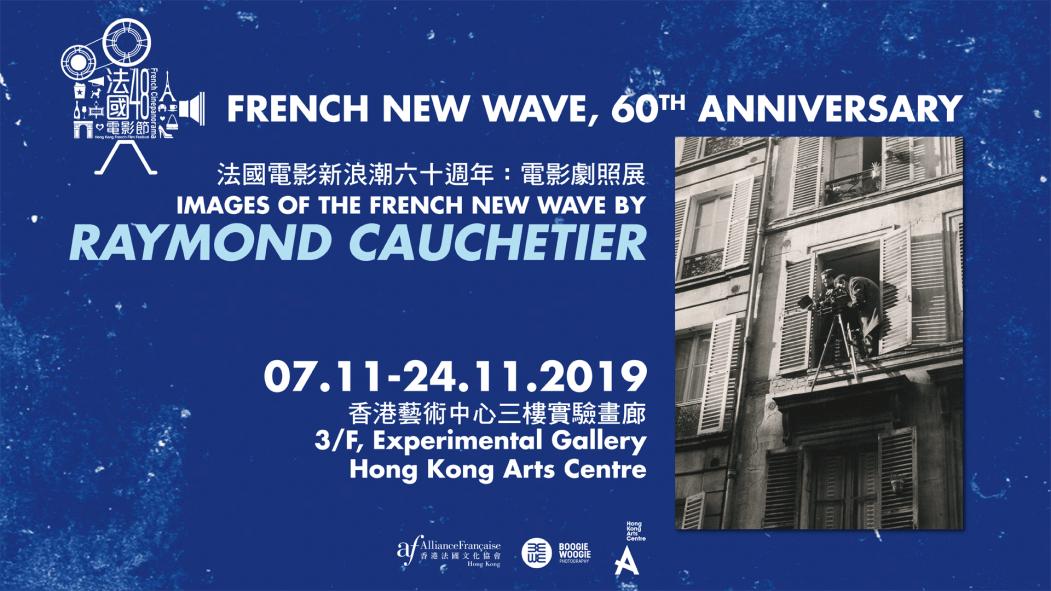 The 48th edition of Hong Kong French Film Festival marks the 60th anniversary of the French New Wave, an iconic milestone in cinema history. In celebration of this anniversary, we are pleased to invite you to rediscover its iconic actors and directors through a photo exhibition at the Hong Kong Arts Centre.
The French New Wave is one of the most significant film movements in the history of the cinema. During the late 1950s and early 1960s, the New Wave movement was spearheaded by Jean-Luc Godard and François Truffaut. Among a group of directors made this period of time so remarkable with timeless and iconic films. Raymond Cauchetier was a film set photographer on some of the most important films of the French New Wave and he has photographed countless classic photos. His work is seen as a witness of a symbolic, energetic and experimental era, French New Wave. It is a rare insight into French cinema to see Raymond getting the recognition his work deserves, when for many years he remained unacknowledged in his field.
Designed by Raymond Cauchetier, the set photographer of the New Wave, this exhibition will give you the opportunity to discover some treasures of the world heritage of cinema. Film lovers and fans of Jean-Luc Godard, François Truffaut and Jeanne Moreau, this exhibition will thrill you!
法國新浪潮六十週年--Raymond  Cauchetier電影劇照展
2019年除了迎來第四十八屆香港法國電影節,更是法國電影新浪潮六十週年。今年電影節將特此舉辦法國新浪潮攝影展,並於香港藝術中心展出著名新浪潮的攝影師Raymond Cauchetier的作品。
五十年代末六十年代初與起的法國電影新浪潮永遠改寫了電影的歷史。由尚盧高逹和杜魯福作開路先鋒,一班原創導演以桀傲創新的手法創作了一些永垂不朽和具標誌性的電影。攝影師Raymond Cauchetier利用他的照相機紀錄了電影新潮浪整個戲劇化和的璀璨歷史進程,他拍攝了無數經典照片,見證了一個具象徵意義,充滿活力和實驗性的時代。然而,Cauchetier的創作人身份在過去幾十年來卻總是得不到應有的榮譽。現在,他對電影史那不可磨滅和寶貴的貢獻最終得到了認同。
我們誠意邀請您親臨香港藝術中心舉辦的攝影展,欣賞那新浪潮明星和導演之風采。這次展覽將為您提供探索電影世界遺產珍品的機會。 高達、杜魯福和珍摩露的粉絲,這個展覽會讓你興奮不已!
Crédits : Raymond Cauchetier, 1. Jean-Luc Godard, «Une Femme est une Femme» de Jean-Luc Godard - photo hors film, Rue Lafayette - Paris, 1960 2. Travelling en 2 CV lestée sous la direction de Jacques Rozier, «Adieu Philippine» de Jacques Rozier - photo hors film, Calvi, Corse, 1960, 3. Antoine et Colette, François Truffaut, 1962
Sorry, you've missed the RSVP deadline for this event.