Order a course
Your previous selection: Wanchai Centre
1 & 2/F, 123 Hennessy Road, Wanchai
< Back
A2 Intermediate - Part 1 & Part 2
Product Code: 3/21-A201-2-WAI-DualMode-(24)-18:30/21:30 2021

Age Group
Adults 成人
Type
Intensive Courses (60h)
Session
2021 - Summer
Pace
Twice a week x 3h
Level
A2 Intermediate - Part 1
A2 Intermediate - Part 2

Schedules
13 Jul 2021 to 16 Sep 2021

Tue & Thu 6:30pm ▸ 9:30pm at Wanchai Centre
A valid registration fee is required in order to enroll in this course (members are exempt).
Objectives
Our DUAL MODE courses offer you the liberty to choose between taking the class face to face or online. Every week, choose to come to our center or stay at home/work and enjoy the flexibility provided by such an arrangement. Note that you will have to notice your teacher at least 24 hrs prior to the class whether you choose to take the class face to face or online
A201, A202
Prerequisite: having completed A1 Beginner - Part 4 (A104)
During 60 hrs, you will start travelling in time and space, learning how to talk about past memories and future projects
Required Course Material

Edito A2 (Textbook and Exercise)
It is a modern communication-based method with exciting new topics and approach, up-to-date documents.
This pack includes Édito 2 textbook, workbook, DVD-ROM and Audio CD.
Mp3 audios, videos, and additional exercises/activities available online: https://didierfle-edito.com/
Recommended Course Material
Grammaire Progressive du Français (Intermediate) - Keys
You will find there the keys to the 600 exercises of the GPF!
Get more autonomy and fluidity to practice your French grammar!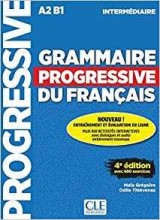 Grammaire Progressive du Français (Intermediate)
This grammar is the most widely used worldwide and has been a table-coffee book for millions of students since its publication.
Covering both A1 and A2 levels, it can be used as from A1.3 until B1.1 classes.
Mixing grammar explanations in a simple language, and hundreds of exercises in use, it also contains an audio CD and a "web-livre" (online e-book version).
Keys come in a separate booklet.
$5,415.00

HKD
Approx $697.32
USD
Early Bird Collective classes - 5% discount: $285 off
Normally: $5,700