Order a course
Your previous selection: Shatin Centre
Level 8, Tower I, Grand Central Plaza
Only 1 course available for this selection
A1 Beginner - Part 4 to Intermediate Part 2 (August - 3 week) Full-day
Product Code: ETE/20-A104-A202-SHA-(12345)-9:30/16:30-August 2020

Age Group
Adults 成人
Type
Super Intensive Courses (90h and +)
Session
2020 - Summer Intensive
Pace
5 classes week x 6hrs
Level
A1 Beginner - Part 4
A2 Intermediate - Part 1
A2 Intermediate - Part 2

Schedules
03 Aug 2020 to 21 Aug 2020

Monday to Friday - 9:30am to 12:30pm at Shatin Centre
Monday to Friday - 1:30pm to 4:30pm at Shatin Centre
A valid registration fee is required in order to enroll in this course (members are exempt).
Objectives
A104, A201, A202
This Super intensive class will take you to cover the full A1 and start the journey into the first third part of Intermediate level.

Discover how to move in a flat, how to contact a professional to explain a domestic problem, how to organise and tell a personal trip, learn how to speak about yourself, about your hobbies and your past life experiences, how to describe someone (clothes, fashion styles), understand a menu and make a reservation in a restaurant, shop, recall past events and memories.

Prerequisite: A1 Discovery - Part 3 (A103) or Placement test
Textbook: Edito A1 Units 7, 8 & 9 and Edito A2, Units 0, 1, 2, 3 & 4


Registration fee (AF Member) is valid for one year and can enjoy the benefits equivalent to an AF Ordinary member.
Required Course Material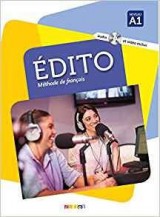 Pack Edito A1 (Textbook and Exercise) + AF Guide du débutant
It is a modern communication-based method with exciting new topics and approach, up-to-date documents.
This pack includes Édito 1 textbook, workbook, DVD-ROM and Audio CD, and AF's Self-study guide.
Mp3 audios, videos, and additional exercises/activities available online: https://didierfle-edito.com/
$8,100.00

HKD
Approx $1,045.06
USD