Home
›
Products
›
Af-17-6-concert-preschoolers-session-2
(17/6) Concert Preschoolers (session 2))
$60.00
HKD


Approx $7.67

USD
Description:
---
AF Library, Jordan Centre
Saturday, 17 June 2023
11 - 11:45 am (Session 2)
In French
For kids aged 3 to 6 (and 1-2 accompanying family members)
$60 HKD (Free for all AF Preschoolers students; 20% OFF for AF students and members)
---
Let's swing and sing!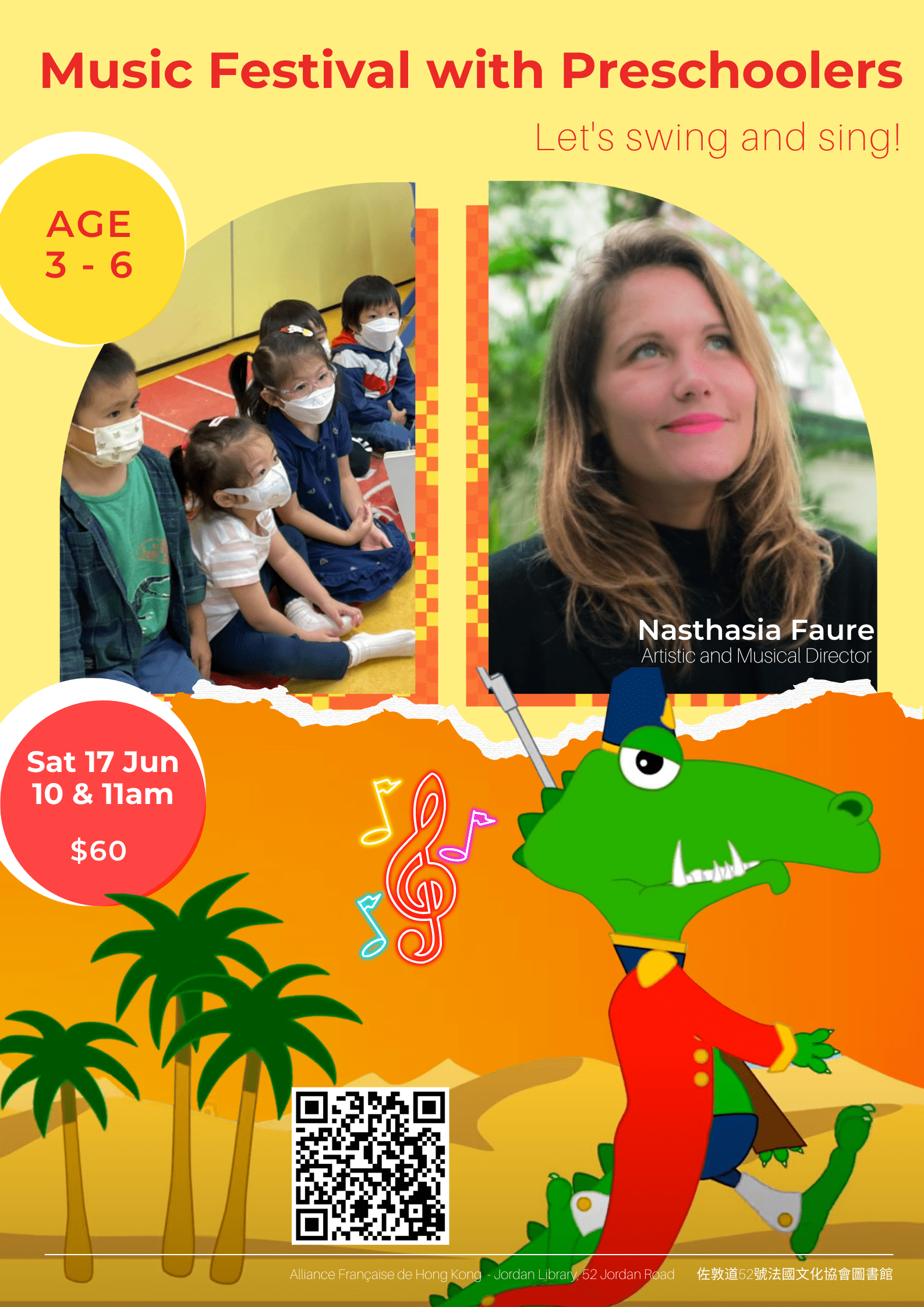 There is a common language in the world - MUSIC (la MUSIQUE). Its magic takes us across familiar landscapes to exotic territories: forests, deserts, oceans, skies and beyond. Through music in French - songs (les chansons) and nursery rhythms (les comptines), kids - even if they speak only little French or not at all - can immerse themselves in the words, the sounds and the melody of the language. And the tunes and the singing will serve as terrains on which their creativity and imagination flourish.
On the occasion of the World Music Day (la Fête de la musique), we will have the honor to have Artistic and Musical Director Nasthasia Faure to lead the performance at Alliance Française. Dear parents, come with your kids and be a part of this joyful celebration!
La musique est une langue universelle. Sa magie nous fait traverser des paysages familiers vers des territoires exotiques : forêts, déserts, océans, ciels et au-delà. À travers la musique en français - les chansons et les comptines, les jeunes apprenants de français s'imprègnent des mots, des sons et des mélodies de la langue. Et les airs et les chants serviront de terrain d'expression à leur créativité et à leur imagination.
A l'occasion de la Fête de la musique, nous aurons l'honneur d'avoir Nasthasia Faure, directrice artistique et musicale, pour diriger la représentation à l'Alliance française. Chers parents, venez nombreux avec vos enfants et participez à cette joyeuse célébration !
Some of the featured songs in the concert

Performer
Nasthasia Faure
Artistic and Musical Director

Nasthasia studied at the International 'Musical School' – AICOM – and at Conservatoire de Paris, with a specificity in jazz. Since moving to Hong Kong in 2018, Nasthasia launched her music school 'Nasthasia Music HK' and organises quarterly concerts. She takes part of Mayaa HK. She has worked with HKTA as a composer, vocal coach, and singer/pianist for the show 'Shoot in the back'. Most recently she has composed all the songs of the musical Peter Pan et L'Enfant de l'oubli. Nasthasia is producing her first musical Il jouait du Piano debout in 2021, then a second in December 2021, Panique au Pôle Nord, Mer Calme will be her third one.
There are 2 identical sessions available. If you wish to register for the one starting from 10 am, please click here.