Order a course
Your previous selection: Online
Use ZOOM for Speaking / Listening practises with your teacher at specific times.
Use our platform HK in French for written and grammatical assignments, whenever you want.
Only 1 course available for this selection
A1.1 Discovery (Kids 2) - Part 1 to Part 3
Product Code: 1/22-2/22-E101-3-100%ONLINE-(35)-17:00/18:00 2022

Age Group
Kids 2 (七至十歲)
Type
Fast-track courses for Teens and Kids (Holiday and more...)
Session
2022 - Winter
Pace
Twice a week x 1hr
Level
A1.1 Discovery (Kids 2) - Part 1
A1.1 Discovery (Kids 2) - Part 2
A1.1 Discovery (Kids 2) - Part 3

Schedules
12 Jan 2022 to 22 Jun 2022

Wed & Fri 5pm ▸ 6pm at Online
A valid registration fee is required in order to enroll in this course (members are exempt).
Objectives
E101, E102, E103
Prerequisite: no prior knowledge of French whatsoever
Kids will study 40 hours of French classes, covering the 3 first general levels of our curriculum at a time, in less than months.
In a very lively class, he/she will expand the knowledge of French through games, stories, songs and interactive activities, ending up with evaluation and cultural games, ask "how are you?", ask about one's study.

Required Course Material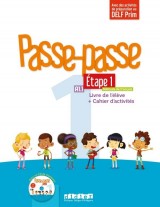 Passe Passe 1 - Etape 1
Passe-Passe is a lively and structured method for kids from 8 years old.
Your kid will discover and practice french language with the 6 cute characters in 3 units.
The Etapes 1 and 2 are a split edition of the original full volume of Passe-Passe 1.
This makes that kids may switch material with the progression, and above all get an all-in-one volume with textbook and exercises altogether.
The Etape book includes the Audio CD where you will find the songs.
$4,750.00

HKD
Approx $609.15
USD
Early Bird Collective classes - 5% discount: $250 off
Normally: $5,000