Order a course
Your previous selection: Shatin Centre
Level 8, Tower I, Grand Central Plaza
Only 1 course available for this selection
A2.2 Intermediate (Teens) - Part 1
Product Code: 4/21-T301-SHA-(3)-17:45/19:15 2021

Age Group
Teenagers 青少年
Type
Regular (Kids & Teens)
Session
2021 - Autumn
Pace
Once a week x 1h30
Level
A2.2 Intermediate Teens - Part 1

Schedules
13 Oct 2021 to 15 Dec 2021

Wednesday 5:45pm ▸ 7:15pm at Shatin Centre
A valid registration fee is required in order to enroll in this course (members are exempt).
Objectives
A2.2 Intermediate Teens - Part 1 (T301)
Students now enter the 1st Part of the A2.2 Intermediate level. They will get the following abilities: to express their musical feelings, instruments, musicians, to give their opinion and advices, to talk about their fashion style,

Prerequisite: A2.1 Intermediate Teens - Part 6 or placement test
Textbook: Adosphère 3, Units 1 & 2
Required Course Material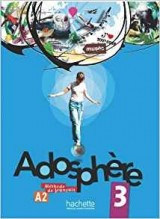 Adosphere 3 (Textbook and Exercise)
$1,950.00

HKD
Approx $250.38
USD
3 places left!