Order a course
Your previous selection: Shatin Centre
Level 8, Tower I, Grand Central Plaza
< Back
A1.2 Beginner (Kids 2) - Part 1 (Thursday)
Product Code: 2/21-E201-SHA-(4)-16:45/18:15 2021

Age Group
Kids 2 (七至十歲)
Type
Regular (Kids & Teens)
Session
2021 - Spring
Pace
Once a week x 1h30
Level
A1.2 Beginner (Kids 2) - Part 1

Schedules
15 Apr 2021 to 17 Jun 2021

Thursday 4:45pm ▸ 6:15pm at Shatin Centre (Delphine Marti)
A valid registration fee is required in order to enroll in this course (members are exempt).
Objectives
A1.2 Beginner (Kids 2) - Part 1 (E201)
Your kids will start the last part of their A1 journey, with 6 sessions of A1.2, mastering the objectives of an A1 level. They will ask and answer questions about identity, localize in a place, tell what is the weather, give their birthdate, understand instructions and know how to interact in daily activities, present their family.

Prerequisite: A1 Discovery Kids 2 - Part 5 (E105 with Ludo et ses Amis 2) or A1 Discovery Kids 2 - Part 6 (E106 with Passe Passe 1) or placement test
Textbook: Passe-Passe 2, Unit 1
Required Course Material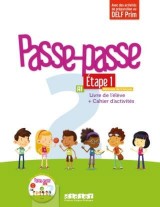 Passe Passe 2 - Etape 1
$1,950.00

HKD
Approx $250.91
USD
2 places left!