Top 10 movies starring Jean-Paul Belmondo to watch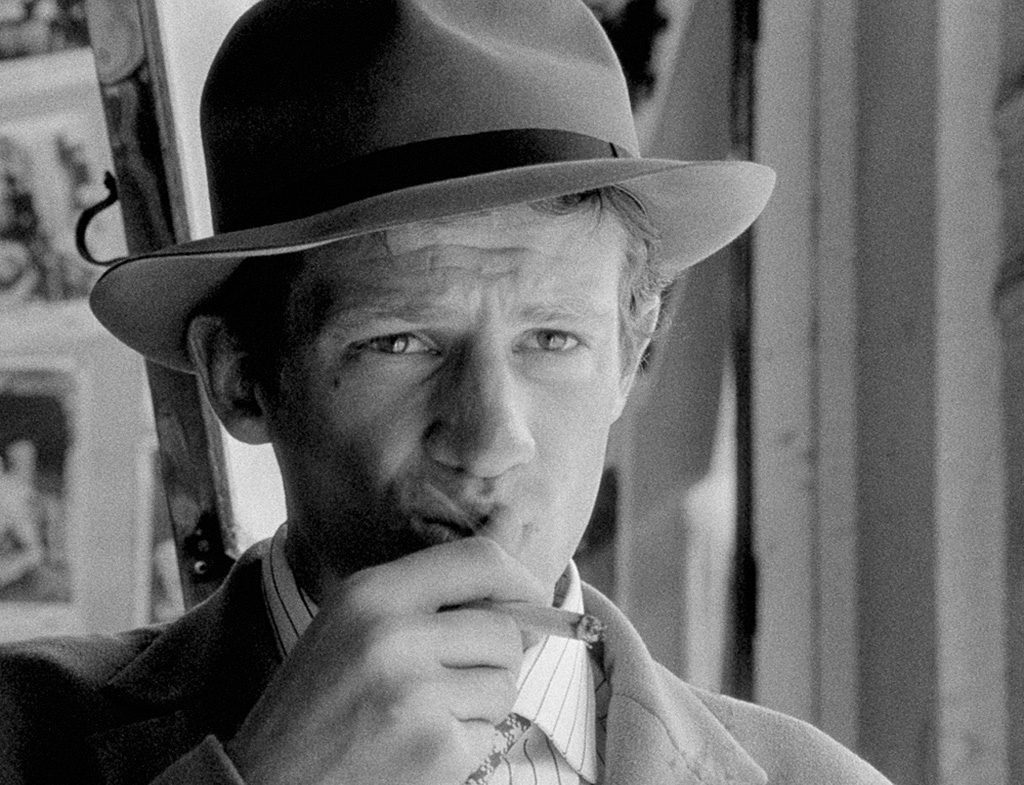 The face of the French New Wave Jean-Paul Belmondo died yesterday at 88. He was one of France's biggest box-office stars by playing in masterpieces written by famous directors such as Jean-Luc Godard, François Truffaut, Claude Lelouch…
Having starred in more than 80 movies, his loss is a real hit to French culture. Nicknamed Bebel by French audiences, he was a key figure of the outstanding generation of European films.
From the 50s until a few years ago, Jean-Paul Belmondo kept up a string of popular hits in France and internationally. We've compiled a list of his top 10 most awe-inspiring movies for you to watch.


1. Le Doulos, by Jean-Pierre Melville (1963)
A burglar betraying other criminals, prepares for a big heist with a trusted friend that might be as untrustworthy as he.
The narrative unfolds through two characters, Maurice and Silien, and consistently switches back and forth between them, leading the audience to grasp randomly for a distinct main character or hero. Through Maurice and Silien's actions, the film explores just how deeply qualities such as friendship and loyalty run.
The story is set in the early 1960's Paris, but these criminals seem to live in a world of their own.
Starring Jean-Paul Belmondo, Serge Reggiani, Fabienne Dali and Michel Piccoli.


2. Les Misérables, by Claude Lelouch (1995)
In this imaginative retelling of Victor Hugo's classic 1862 novel Les Misérables, Claude Lelouch updates the story to the 20th Century.
The film concerns Henri Fortin, a poor and illiterate man who is caught up in the turmoil of World War II. Charged with caring for a young Jewish girl, Henri later joins the French Resistance. As the story progresses, his life seems to parallel that of Hugo's hero, Jean Valjean, particularly when he becomes a victim of circumstance and is convicted of a crime he did not commit.
Starring Jean-Paul Belmondo, Michel Boujenah, Alessandra Martines and Salomé Lelouch.


3. Les tribulations d'un chinois en Chine - Up to his ears, by Philippe de Broca (1965)
Satirizing practically nothing, Up to His Ears sets up shop in Hong Kong, where Belmondo, as the bored-to-death young heir to a knitting-mills fortune, has anchored his yacht and tried to kill himself for the ninth time within a week. Someone suggests that he could turn his suicidal impulse to good account by insuring his life for $2,000,000 and letting himself be murdered. He does—and then meets Stripper Ursula, a girl worth living for. Fleeing a corps of assassins, the lovers go to the Himalayas and back by junk, rickshaw, sampan, elephant, airplane and balloon. They survive shipwreck in a floating coffin, and even beat off an attack by a fleet of heavily armed Coca-Cola trucks.
Starring Jean-Paul Belmondo, Ursula Andress, Jean Rochefort and Darry Cowl.


4. Moderato Cantabile - Seven Days ... Seven Nights, by Peter Brook (1960)
This film is an adaptation of Marguerite Duras' novel.
Anne Desbarèdes is a young woman who is married to a wealthy businessman and is living a monotonous existence in the town of Blaye, a small commune. After being an indirect witness to a murder which happened in a café, she goes back to it the next day, where she meets Chauvin, who informs her in more detail about the crime scene events. Anna due to her unstable mental balance starts to think that he intends to kill her.
Starring Jean-Paul Belmondo, Jeanne Moreau, Didier Haudepin and Valérie Dobuzinsky.


5. Peut-être - Maybe by Cédric Klapisch (1999)
It all begins at the end of the twentieth century. On New Year's Eve, 2000, 24-year-old Arthur gets together with his girlfriend, Lucie. She really wants a baby, but he doesn't feel ready to be a father yet. During the long night of wild partying, Arthur will go through unsettling experiences. He'll be projected seventy years ahead in time and find himself face to face with an old man who claims he's his son… This seventy-year-old son shows him his house, family, life and Arthur discovers what Paris has become in 2070. By showing him this unexpected future, his son hopes to convince Arthur to have a child.
Starring Jean-Paul Belmondo, Romain Duris, Géraldine Pailhas and Julie Depardieu.


6. Pierrot le fou by Jean-Luc Godard (1965)
Ferdinand Griffon is unhappily married and has been recently fired from his job. He feels a need to escape and decides to run away with his baby-sitter, an ex-girlfriend, leaving his wife and children. Ferdinand soon discovers that Marianne is being chased by Algerian gangsters, and together they will go on a traveling crime spree from Paris to the Mediterranean Sea. They lead an unorthodox life, always on the run before settling down in the French Riviera and letting their relationship become strained.
"Pierrot Le Fou" is one of the high points of the French New Wave and marked the beginning of Godard's current period.
Starring Jean-Paul Belmondo, Anna Karina, Graziella Galvani and Dirk Sanders.


7. A bout de souffle - Breathless, by Jean-Luc Godard (1959)
A small-time thief steals a car and impulsively murders a motorcycle policeman. Wanted by the authorities, he reunites with a hip American journalism student and attempts to persuade her to run away with him to Italy.
The film was Godard's first feature-length work and represented Belmondo's breakthrough as an actor. Breathless is one of the earliest and more influential examples of French New Wave cinema. It brought international attention to new styles of French filmmaking and at the time, Breathless attracted much attention for its bold visual style, which included unconventional use of jump cuts. The film attracted over two million viewers and has since become considered one of the best films ever made.
Starring Jean-Paul Belmondo, Jean Seberg, Henri-Jacques Huet and Liliane Dreyfus.


8. La sirène du Mississippi - Mississippi mermaid, by François Truffaut (1969)
Louis owns a tobacco plantation and cigarette factory on Réunion Island, but it's lonely work — so he sends away for a mail-order bride. Much to his surprise, the beautiful young Julie Roussel arrives by ship, looking nothing like the picture he had received by mail. Louis quickly falls for Julie, while discovering that she is decidedly not the woman with whom he had been corresponding.
The film is a joy to watch, not just for the plot, which is gripping, but also for the superb performances of the actors. Belmondo and Deneuve shine in their respective roles. Words won't do this masterpiece justice, suffice it to say that this is a movie that explores the darker side of love and the pain, humiliation and capacity for self-delusion that go with it, although it's dressed as a film noir.
Starring Jean-Paul Belmondo, Catherine Deneuve, Michel Bouquet and Marcel Berbert.


9. Itinéraire d'un enfant gâté - Itinerary of a spoiled child, by Claude Lelouch (1988)
A successful entrepreneur in his fifties decides to abandon his loved ones and the empire he has built to find the liberty he yearns for, unaware that the itinerary of one's life often changes in the funniest of ways.
In search of his own past, of his own desires, this fabulous film by Claude Lelouch is a man's quest for himself at a ripe age and one of his most elaborate works.
Belmondo gives a performance that is far richer, much more measured and poignant than he was known for all the time. On paper, his character is barely credible but Belmondo's portrayal is so convincing and engaging that we are compelled to feel that we understand Sam's need for escape.
Starring Jean-Paul Belmondo, Richard Anconina, Lio and Marie-Sophie L.


10. Une femme est une femme - A woman is a woman, by Jean-Luc Godard (1961)
A French striptease artist is desperate to become a mother. When her reluctant boyfriend suggests that his best friend impregnate her, feelings become complicated when she accepts. This subversive musical celebrates female empowerment and takes sly jabs at Hollywood film conventions.
A Woman Is a Woman was shot in five weeks in late 1960, with a detailed treatment but no script.
Want to watch those movies? As a member of the Alliance Francaise de Hong Kong you can borrow those DVDs at the Jordan library of the Jordan Center.
Book it online now: It's possible to reserve it here.
Not a member yet? Become one here.
---
Learn French with

Alliance Francaise
Do you want to learn more about French cinema and French culture? Other than focusing on AFHK's blogs, you can also take our French workshops, including one on Discovering Cinema (Découvrir le Cinéma).
Know More! Know More!