Home
›
Products
›
Cooking-workshop-cooking-workshop-crpe-de-la-chandeleur
Cooking Workshop - Crêpe de la Chandeleur
$280.00
HKD


Approx $35.66

USD

SOLD OUT!
Description:
AF Library, Jordan Center
Thursday, February 4th, 7 - 8:30 pm - Group size Limit : 8 people
280 HKD - 20% Discount for members
In English with French words / translation
---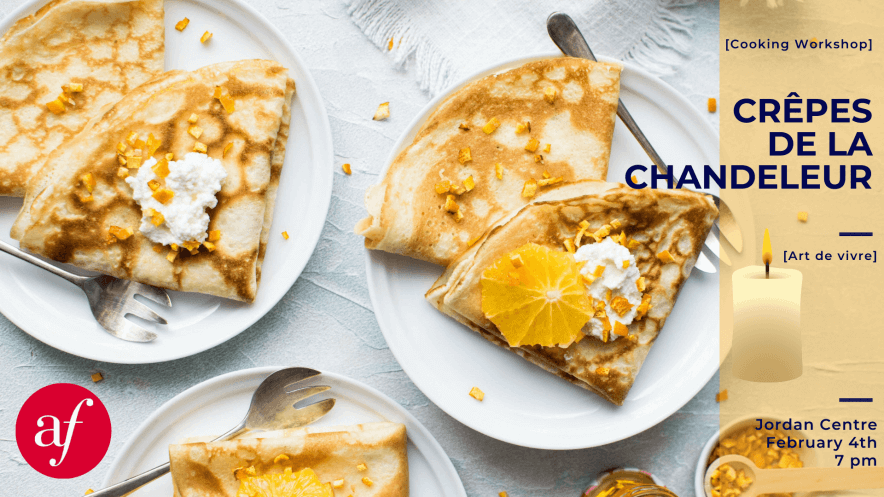 We all know about crêpes and many among us love them. There's actually a festival which the French eat crêpes to celebrate.
La Chandeleur (Candlemas) is a Christian festival and Holy Day commemorating the presentation of Jesus at the Temple. It's on 2 February - 40 days after Christmas - concluding the Christmas-Epiphany season. It means "the festival of candles" as on this day traditionally many Christians bring candles to church to be blessed. These candles are symbols of Jesus himself, referred to as the Light of the World. "Chandeleur" comes from the word "chandelle", which means candle in French and indeed resembles the English word "candle" and by extension "chandelier" (the light fixture). "Bougie" in French also refers to candles.
But the roots go back before Christian times. It was fêted by pagans to celebrate the fertility of the earth and the end of winter. La Chandeleur is indeed a mix of both traditions.
Why the crêpes then? Their yellow and round appearance is thought to recall the Sun, representing more daylight and longer days to come in Spring after the harsh Winter. The act of eating and sharing them commemorates an ancient tradition of popes giving out to the poor every year on 2 February.
Crêpes are usually eaten with different kinds of topping - chocolate, jam and various fillings - and traditionally accompanied by cider; types of cider vary to match the crêpe fillings.
Join us and with our experienced French teacher and passionate cook Molinna Hatterrer, learn more about the stories and how to make them! Bon appétit !