Home
›
Products
›
Afhk-cin-club-la-plante-sauvage-19-oct
Ciné-club : La Planète sauvage (19-Oct)
$50.00
HKD


Approx $6.38

USD

SOLD OUT!
Description:
---
AF Library, Jordan Centre
Tuesday, 19th October
7 - 8:30 pm
In French with English subtitles
For adults only
$50 (Free for AF members)
---
Unfortunately the event has to be canceled; registered participants will be informed asap.
Witness the most eerie and surreal experimentation in French animation cinema.

Released in 1973, La Planète sauvage (Fantastic Planet) is a landmark in European sci-fi animation. Its status of a classic cult/weird film due largely to its unique imagery: cut-out animation with minimal movement in each frame renders all motions and action sequences eerily rigid, giving a bizarre look to the mysterious world and the characters who inhabit it. The planet, with its strange species, and the unheard-of natural laws and physics that govern them, is horrifying and intriguing at the same time. Without knowing what to expect, we, the audience, are led to witness a story between the dominating and the dominated; the philosophical aspect of the story has ever since facinated many spectators and critics alike.
The film has won the Special Jury Prize at the 1973 Cannes Film Festival.

Please note that this movie is NOT meant for a young audience (less than 12 years old)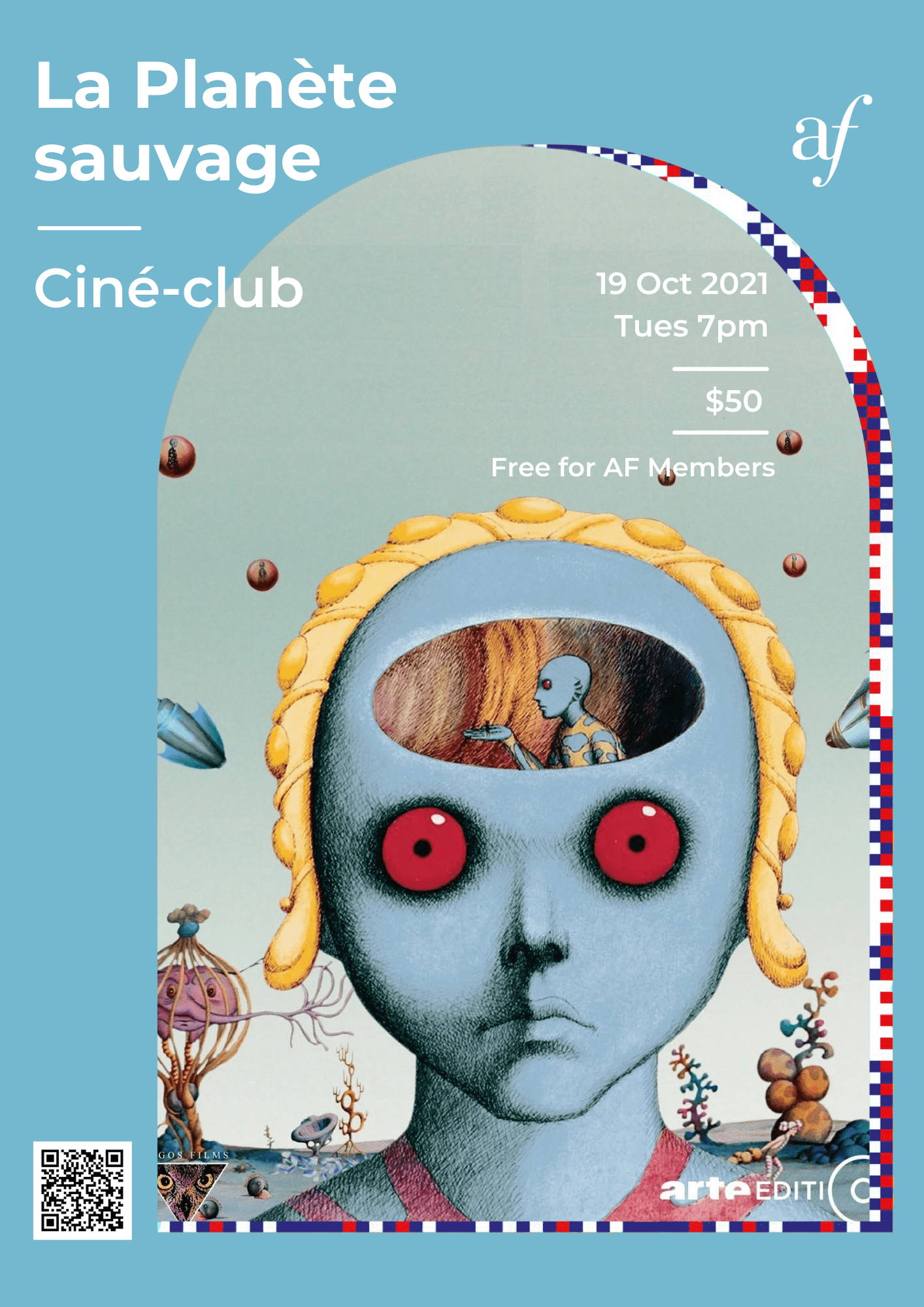 English title: Fantastic Planet
Director: René Laloux
Duration: 1h12
Slaves and masters dominate the narrative of the faraway world of Ygam. Set around the lifespan of Terr, a minute human shaped Om slave, and pet, of the giant blue alien Draags. Escaping into the wilderness and with a device used for intellectual advancement of the Draags, Terr finds refuge and support from fellow Oms and using the learning tool, he finds that knowledge is power and then sets to use the new found knowledge to revolt against the Draag masters...
The artists befind :
Director René Laloux (1929-2004) collaborated with multi-talented artist (writer, illustrator, actor, etc.) Roland Topor on several short movies before they both worked on Fantastic Planet. The movie was animated in Czechoslovakia, in studios located in Prague. Fantastic Planet is based on the French book Oms en série (published in English as Fantastic Planet) by Stefan Wul, who published a dozen of sci-fi novels for all publics in the 1950s, including Niourk. In addition to several short movies, Laloux would later direct two other sci-fi animated feature films: Les Maîtres du temps (Time Masters, 1982) with comic book artist and illustrator Jean Giraud-Moebius and also based on a novel written by Wul, and Gandahar (1987, Light Years) with comic book artist and illustrator Caza.
Trailer :

Pricing policy updates :
To enjoy free discount, interested AF members should log in and register individually. Free discount is not applicable to Additional Guests option.