Home
›
Products
›
Afhk-art-de-vivre-apritif-mditerranen
Art de vivre - apéritif méditerranéen
$250.00
HKD


Approx $32.15

USD
Description:
---
AF Library, Jordan Centre
10 June, 7-8:30 PM
In French and English
HK$ 250 - 20 % discount for AF members
---
Experience cooking at Alliance Française !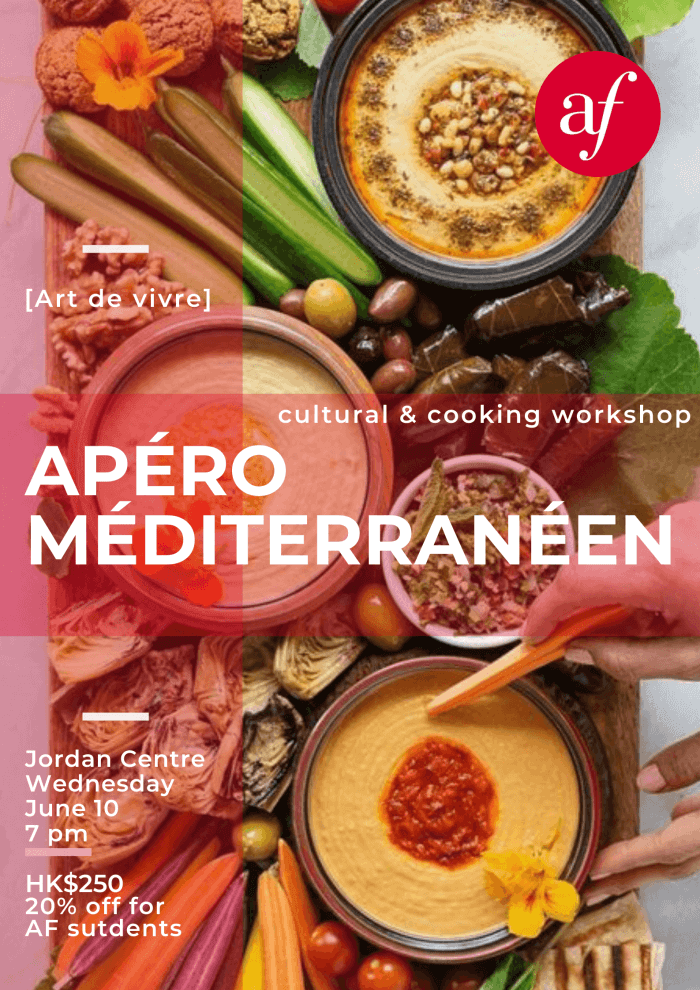 Mediterranean sea has been a place of exchanges since the Greek Antiquity. All cultures were able to trade products, debate ideas that resulted in assimilation of many things from each other: arabic numbers, religion, medical science... and, most of all, food !
Live the French tradition of apéro with a meditarrenean twist. A southern way of life that will satisfy all your senses.
Houmous, Caviar d'aubergine, (Eggplant caviar), Pain (pita-bread), Rillettes de poissons
- DEMO Cooking Workshop - chef Alexis Bilak (French cook in different restaurants of Hong Kong - Picci, The ocean...)
- French and mediteranean Cultural workshop : David Cordina, director of studies, AFHK
- Food and Wine degustation
in English with French words (ingredients, verbes de cuisine, références culturelles)