Ciné-club : Le Quai des brumes
Date: 22 Apr 2021, 7:00pm - 9:00pm (GMT+08:00) Hong Kong

---
AF Library, Jordan Centre
Thursday, 22th April
7 - 9 pm
In French with English subtitles
$50 (Free for AF members)
---
A classic of
poetic realism

directed by

Marcel Carné

and starring the all-time French movie icon Jean Gabin

.

Beside these giants in French cinema, the writer and poet Jacques Prévert also participated in the film, adapting into the screenplay the original novel of Pierre Mac Orlan. The film was awarded, one year after its release, the 1939 Prix Louis-Delluc, the top cinematic prize of the country.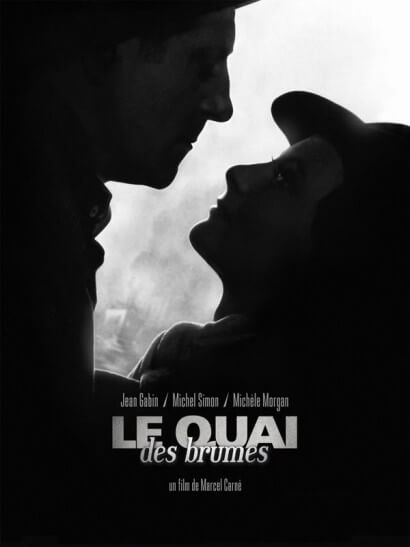 English title: Port of Shadows
Director: Marcel Carné
Duration: 1h31
Jean (Jean Gabin) is an army deserter who arrives in Le Havre, France, planning to leave the country on one of the many ships anchored there. He gets distracted in the foggy port city, however, when he falls in love with the lovely Nelly (Michèle Morgan). Jean faces some sinister competition, as Nelly is caught between the influence of her overbearing godfather (Michel Simon) and a petty gangster (Pierre Brasseur). Jean wants to skip town with Nelly, but tempers are escalating quickly.
Poetic realism :
It is a film movement in France during the 30s. The heart of it is the so-called "recreated realism"; these films are highly stylized and often studio-bound. The fatalistic worldview is core of the films: socially marginalized characters (the working class, the unemployed, the criminals, etc), after a life of bitterness, will get a last glimpse of love but ultimately end up with disillusion, or worse, in death. These films are "poetic" due to a heightened aestheticism, which is easily recognizable when one pays attention to the imagery,
It is said to be a glorious era in French cinema that emerged from a particularly inglorious phase of French history. Poetic realism has significantly influenced later film movements such as the Italian Neorealism and the French New Wave.
The filmmaker Michel Carné and Jean Gabin are both leading figures in this period.

Watch the trailer here:



Pricing policy updates :
To enjoy free discount, interested AF members should log in and register independently. Free discount is not applicable to Additional Guests option.
Sorry, you've missed the RSVP deadline for this event.