Rendez-vous online with Guillaume de Fontenay (Sympathy For The Devil)
Date: 11 Dec 2020, 9:00pm - 9:30pm (GMT+08:00) Hong Kong

Alliance Française Hong Kong - AFHK Youtube channel.
December 11th, 9:00 pm
In French and English
Free
---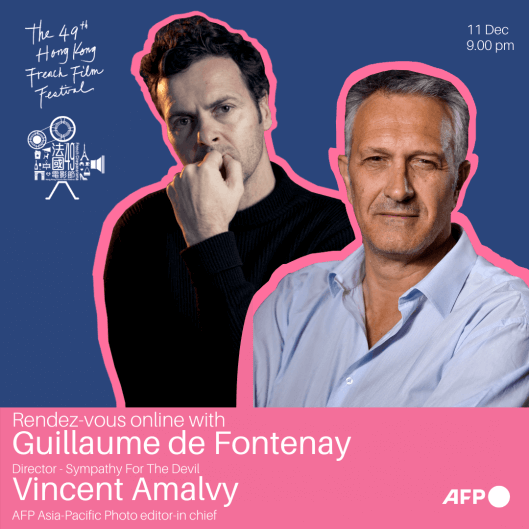 As a pioneer of Hong Kong's film festival, Hong Kong French Film Festival aims to bring the latest and best of French Cinema to local citizens. This year, we are glad to have honorable guests, directors, actors joining the Festival online Q&A sessions. All French film lovers are welcomed to join these free events via AFHK Youtube channel.

On December 11th, we will have a live meeting with Guillaume de Fontenay, the Director of Sympathy For The Devil and Vincent Amalvy, Agence France-Presse (AFP) Asia-Pacific Photo editor-in-chief.
All through official live Q&A session – it will be a valuable chance to know more about the behind-the-scene production story and real-life war reporting, from the perspectives of a filmmaker and a photojournalist.

AFHK - YOU TUBE AFHK - YOU TUBE


Guillaume de Fontenay
Guillaume de Fontenay began his career as an actor and assistant director for Carbone 14 and O Vertigo. He then founded his theater company, Ex-Voto. His rigorous, meticulous filmmaking work has earned him international awards. His short film Le Retour Tryptique was sold to TV5 and TFO by Vidéographe and was selected by SODEC to be presented at Clermont-Ferrand and at various festivals in Quebec, Italy and the United States. From 2005, de Fontenay set out to direct his first feature film, Sympathy for the Devil, inspired by the story of war journalist Paul Marchand during the siege of Sarajevo. Sympathy for the Devil was presented in 2019-2020 in various International Film Festivals where it has won 18 awards/ been honored 18 awards and nominations.
Vincent Amalvy
Vincent Amalvy has been Agence France-Presse Asia-Pacific Photo editor-in chief since 2017. He is also Head of the Special Operation for AFP. After joining AFP in 1990 as a photo reporter, he covered numerous conflicts, including the war in the former Yugoslavia and the siege of Sarajevo, the first Gulf war and the genocide in Rwanda.


Sympathy For The Devil (Sympathie pour le diable)


2020 | 100 min | Drama
1992, war is raging in what will become Ex-Yugoslavia. Paul is covering the siege of Sarajevo. Flamboyant dandy, loudmouth, adrenaline junkie, provocative cigar-smoker, Paul Marchand is the war correspondent archetype. Racing through Sniper Alley in his white Ford, the Frenchman relentlessly tells the apathetic western world about the ongoing massacre. In an urban war zone where everything that moves is a target, Paul tries to live, love and inform. How much can he endure before he starts taking up arms?
4 Prizes – Saint-Jean-de-Luz International Film Festival, 2019
Sympathy For The Devil is available on HKFFF Online Streaming Platform now!
29 Nov - 13 Dec HKFFF Online Streaming Platform BUY
Sorry, you've missed the RSVP deadline for this event.