Rendez-vous Online with Sara Forestier
Date: 01 Dec 2020, 7:30pm - 9:30pm (GMT+08:00) Hong Kong

Youtube Channel
December 1st, 7:30 pm
In French and English
Free
---
Don't miss the opportunity to meet the actress Sara Forestier, actress of Working Girls (Filles de joie)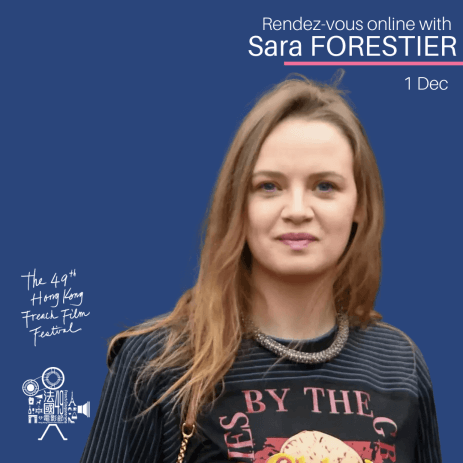 As a pioneer of Hong Kong's film festival, Hong Kong French Film Festival aims to bring the latest and best of French Cinema to local citizens. This year, we are glad to have honorable guests, directors, actors joining the Festival online Q&A sessions.
All French film lovers are welcomed to join these free events via AFHK Youtube channel.
On December 1st, Matthieu Motte, from the French magazine in HK, Sauvés par le Kong will interview the actress Sara Forestier.
All through official live Q&A session – it will be a valuable chance to know more about the behind-the-scene production story, from the perspective of a talented actress.



Sara Forestier
As a French actress, film director and screenwriter, she has devoted herself in the film industry since 2001. Participating in the production of more than 30 films, she has been nominated for numbers of film awards and received César Award for Most Promising Actress for her outstanding performance at Games of Love and Chance (2003), as well as César Award for Best Actress for The Names of Love (2011). In her latest performance, Working Girls (Filles de joie), Forestier played the role of Axelle who prostitutes herself across the border every day in Belgium.


Working Girls (Filles de joie)
2020 | 91 min | Drama
Colour | Belgium, France
In French with English subtitles
Director: Frédéric Fonteyne, Anne Paulicevich
Cast: Sara Forestier, Noémie Lvovsky, Annabelle Lengronne

Working Girls tells the story of three women who have nothing in common except for the fact that they are colleagues and cross the border together every day to go to work. In order to live decently on one side of the border, in Roubaix, they prostitute themselves on the other side, in Belgium – this double life is their secret. At the end of the summer, the three women unite in a gesture of solidarity much in the way one would rally the Resistance.
Voices Selection – International Film Festival Rotterdam, 2020
Grab your tickets for Working Girls now!
Sorry, you've missed the RSVP deadline for this event.