Kids cooking class : crêpes et gaufres
Date: 29 Feb 2020, 1:30pm - 3:00pm (GMT+08:00) Hong Kong

---
Jordan Centre, G/F-3/F, 52 Jordan Road, Kowloon
29 February, 1.30 PM
In French and English
HK$ 150 - 20% discount for AF members and students
---
For little chefs between 6 and 10 year-old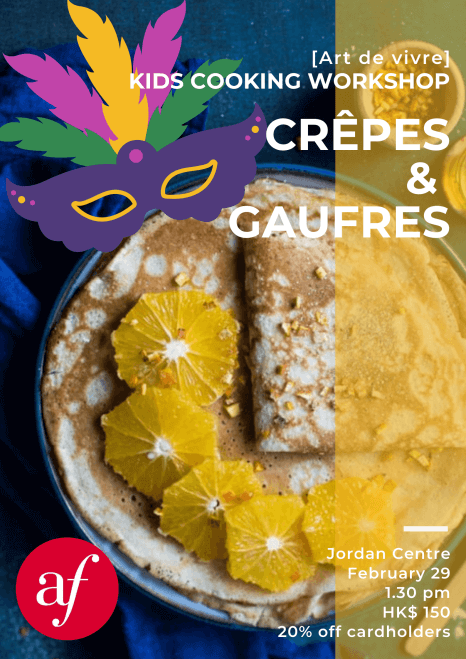 Enlighten winter with sun-like crêpes ! In France, the month of February is a traditional time to make crêpes, so let your kids join us and learn how to make delicious crêpes and gaufres !
If crêpes and pancakes travel all around the world and can be find in different shapes, it is in French region of Britanny that they became so famous. Making crêpes was the opportunity to attract fertility in the roman ages, and now, flipping them while holding a coin is a way to assure prosperity for the rest of the year.
Your kids will amaze you with the power to make what we think is the wonderful smell of joy.
Have an Account? Click here to Login



Please indicate your intention to attend this event below: