Trying out the Jeweler's Techniques
Date: 20 Feb 2020, 10:30am - 12:30pm (GMT+08:00) Hong Kong

---
L' ECOLE Asia Pacific, School of Jewelry Arts
February 20, 10.30 - 12.30 pm
In French
Free for AF members and students
---
Due to current public health situation, this event is now postponed until further notice.
We are thrilled to introduce two exclusive and complimentary workshops in collaboration with L'ÉCOLE Asia Pacific, School of Jewelry Arts at their newly opened campus in Hong Kong.
There will be one adult savoir-faire class offered on February 20, and one creative workshop on February 22 for kids (8-12 years old).
The workshop for adult students (Trying out the Jeweler's Techniques) on February 20 will enable you to try out techniques, from sculpting a wax mock-up, cutting a metal plate, polishing and experimenting one of the fundamental stone-setting techniques: "lifting a grain".  The workshops will be conducted in French so B1 level is required. Join us for the workshop to discover fine jewelry and its savoirs-faire! Limited seats will be offered at a first come first served basis. Experience for yourself all the richness of these artistic professions! 
Meanwhile, discover the current exhibition about Precious Art Deco Objects at L'ÉCOLE Asia Pacific, School of Jewelry Arts in K11 MUSEA, Tsim Sha Tsui.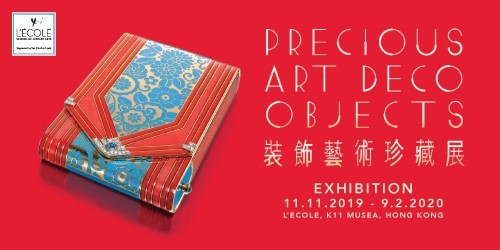 *successful registrations will receive e-mail confirmation.
Sorry, you've missed the RSVP deadline for this event.