Order a course
Your previous selection: Online
Use ZOOM for Speaking / Listening practises with your teacher at specific times.
Use our platform HK in French for written and grammatical assignments, whenever you want.
< Back
A2 Intermediate - Part 2
Product Code: 1/22-A202-100%ONLINE-(5)-09:30/12:30 2022

Age Group
Adults 成人
Type
Regular Course (Adults)
Session
2022 - Winter
Pace
Once a week x 3h
Level
A2 Intermediate - Part 2

Schedules
14 Jan 2022 to 25 Mar 2022

Friday 9:30am ▸ 12:30pm at Online (Chantal Carry)
A valid registration fee is required in order to enroll in this course (members are exempt).
Objectives
A202
• Can understand sentences and frequently used expressions related to areas of most immediate relevance (e.g. very basic personal and family information, shopping, local geography, employment).
• Can communicate in simple and routine tasks requiring a simple and direct exchange of information on familiar and routine matters.
• Can describe in simple terms aspects of his/her background, immediate environment and matters in areas of immediate need.
Grammar content : pronoms relatifs, comparaison, pronoms possessifs, futur simple, condition avec si, pronom on

Textbook: Edito A2, Units 3 and 4
Recommended Course Material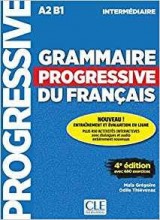 Grammaire Progressive du Français A2-B1 Intermediate (Livre)
This grammar is the most widely used worldwide and has been a table-coffee book for millions of students since its publication.
Covering both A1 and A2 levels, it can be used as from A1.3 until B1.1 classes.
Mixing grammar explanations in a simple language, and hundreds of exercises in use, it also contains an audio CD and a "web-livre" (online e-book version).
Keys come in a separate booklet.
Grammaire Progressive du Français A2-B1 Intermediate (Corriges)
You will find there the keys to the 600 exercises of the GPF!
Get more autonomy and fluidity to practice your French grammar!
$3,000.00

HKD
Approx $385.22
USD