Order a course
Your previous selection: Shatin Centre
Level 8, Tower I, Grand Central Plaza
Only 1 course available for this selection
B2 Advanced - Part 2
Product Code: 1/22-B202-SHA-(2)-18:30/21:30 2022

Age Group
Adults 成人
Type
Regular Course (Adults)
Session
2022 - Winter
Pace
Once a week x 3h
Level
B2 Advanced - Part 2

Schedules
11 Jan 2022 to 22 Mar 2022

Tuesday 6:30pm ▸ 9:30pm at Shatin Centre (Claire Burban)
A valid registration fee is required in order to enroll in this course (members are exempt).
Objectives
B202 Advanced
• Can understand the main ideas of complex text on both concrete and abstract topics, including technical discussions in his/her field of specialisation.
• Can interact with a degree of fluency and spontaneity that makes regular interaction with native speakers quite possible without strain for either party.
• Can produce clear, detailed text on a wide range of subjects and explain a viewpoint on a topical issue giving the advantages and disadvantages of various options.
Grammar content : la presse, cause, conséquence, passif, évenements et faits divers, commenter des données chiffrées

Textbook: Edito B2
Recommended Course Material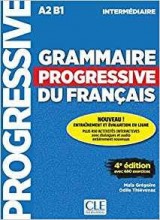 Grammaire Progressive du Français A2-B1 Intermediate (Livre)
This grammar is the most widely used worldwide and has been a table-coffee book for millions of students since its publication.
Covering both A1 and A2 levels, it can be used as from A1.3 until B1.1 classes.
Mixing grammar explanations in a simple language, and hundreds of exercises in use, it also contains an audio CD and a "web-livre" (online e-book version).
Keys come in a separate booklet.
Grammaire Progressive du Français A2-B1 Intermediate (Corriges)
You will find there the keys to the 600 exercises of the GPF!
Get more autonomy and fluidity to practice your French grammar!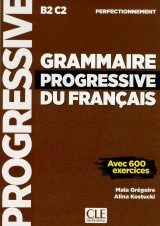 Grammaire Progressive Perfectionnement B2-C2 (Livre)

Ouvrage de Grammaire en français langue étrangère (FLE) dans la collection Progressive destiné aux grands adolescents et adultes, niveau perfectionnement (B2/C2).
La Grammaire progressive du français niveau perfectionnement est à la fois une grammaire générale et une grammaire des difficultés. Elle s'adresse à des étudiants, adultes et adolescents de niveau avancé / perfectionnement.

On y retrouve :
Une organisation claire : la partie théorique sur la page de gauche, une présentation en contexte des points de grammaire et les exercices de réemploi sur la page de droite
Un apprentissage progressif : il suit la progression naturelle des méthodes de français
Un usage souple : pour la classe ou en auto-apprentissage
Une préparation adaptée au certifications : un entrainement efficace pour mieux réussir aux examens
Les "plus" de ce niveau perfectionnement :
De nombreux tableaux récapitulatifs
Des pages récréatives intégrant une dimension "culturelle"
Un sondage / test "grammatical" en fin de chaque unité
Un test général
Un index détaillé
Un livret de corrigés est proposé à part (ISBN 978-2-09-038440-6).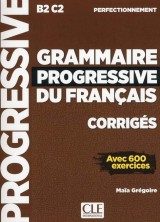 Grammaire Progressive Perfectionnement B2-C2 (Corriges)
<p></p>
$3,300.00

HKD
Approx $423.74
USD