Order a course
Your previous selection: Online
Use ZOOM for Speaking / Listening practises with your teacher at specific times.
Use our platform HK in French for written and grammatical assignments, whenever you want.
< Back
A1 Beginner - Part 3
Product Code: 4/21-A103-100%ONLINE-(135)-12:30/13:30 2021

Age Group
Adults 成人
Type
Regular Course (Adults)
Session
2021 - Autumn
Pace
3 classes a week x 1hr
Level
A1 Beginner - Part 3

Schedules
13 Oct 2021 to 20 Dec 2021

Mon, Wed, Fri 12:30pm ▸ 1:30pm at Online
A valid registration fee is required in order to enroll in this course (members are exempt).
Objectives
A103
• Can understand and use familiar everyday expressions and very basic phrases aimed at the satisfaction of needs of a concrete type.
• Can introduce him/herself and others and can ask and answer questions about personal details such as where he/she lives, people he/she knows and things he/she has.
• Can interact in a simple way provided the other person talks slowly and clearly and is prepared to help.
Grammar content : verbes pronominaux, fréquence, impératif, antériorité et postériorité, pouvoir, vouloir, déterminants possessifs, passé composé 1, présentatif, indicateurs, passé, futur.

Textbook: Edito A1, Units 5 and 6
Recommended Course Material
Grammaire Progressive du Français A1 Débutant (Livre)
This level corresponds to Beginner classes, from A1.2 to A1.4.
It presents basic french rules with easy access explanations and many exercises in use.
It also has an audio CD with dialogues and exercises.
Keys are in a separate booklet.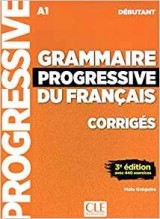 Grammaire Progressive du Français A1 Débutant (Corriges)
Keys for "grammaire progressive" débutant
$3,000.00

HKD
Approx $385.36
USD