Order a course
Your previous selection: Online
Use ZOOM for Speaking / Listening practises with your teacher at specific times.
Use our platform HK in French for written and grammatical assignments, whenever you want.
< Back
A1.1 Discovery (Kids 2) - Part 1
Product Code: 4/21-E101-100%ONLINE-(1)-16:30/18:00-class A 2021

Age Group
Kids 2 (七至十歲)
Type
Regular (Kids & Teens)
Session
2021 - Autumn
Pace
Once a week x 1h30
Level
A1.1 Discovery (Kids 2) - Part 1

Schedules
18 Oct 2021 to 20 Dec 2021

Monday 4:30pm ▸ 6pm at Online
A valid registration fee is required in order to enroll in this course (members are exempt).
Required Course Material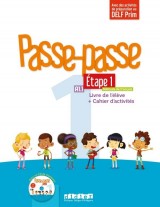 Passe Passe 1 - Etape 1
Passe-Passe is a lively and structured method for kids from 8 years old.
Your kid will discover and practice french language with the 6 cute characters in 3 units.
The Etapes 1 and 2 are a split edition of the original full volume of Passe-Passe 1.
This makes that kids may switch material with the progression, and above all get an all-in-one volume with textbook and exercises altogether.
The Etape book includes the Audio CD where you will find the songs.
$1,950.00

HKD
Approx $250.48
USD
SOLD OUT