Order a course
Your previous selection: Wanchai Centre
1 & 2/F, 123 Hennessy Road, Wanchai
< Back
B2 Advanced - Part 1
Product Code: 4/21-B201-WAI-(6)-9:30/12:30 2021

Age Group
Adults 成人
Type
Regular Course (Adults)
Session
2021 - Autumn
Pace
Once a week x 3h
Level
B2 Advanced - Part 1

Schedules
16 Oct 2021 to 18 Dec 2021

Saturday 9:30am ▸ 12:30pm at Wanchai Centre
A valid registration fee is required in order to enroll in this course (members are exempt).
Objectives
B201
• Can understand the main ideas of complex text on both concrete and abstract topics, including technical discussions in his/her field of specialisation.
• Can interact with a degree of fluency and spontaneity that makes regular interaction with native speakers quite possible without strain for either party.
• Can produce clear, detailed text on a wide range of subjects and explain a viewpoint on a topical issue giving the advantages and disadvantages of various options.
Grammar content: Exprimer son opinion, le subjonctif, indicatif, révisions, les articulations logiques, les déclaratifs, discours rapporté au passé

Textbook: Edito B2
Required Course Material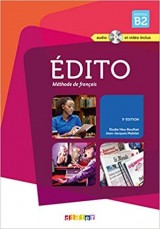 Edito B2 (Textbook and Exercise)
Recommended Course Material
Grammaire Progressive Perfectionnement B2-C2 (Livre)
Grammaire Progressive Perfectionnement B2-C2 (Corriges)
$3,900.00

HKD
Approx $500.76
USD
2 places left!