Order a course
Your previous selection: Jordan Centre
52 Jordan Road, Kowloon

Only 1 course available for this selection
A1 Beginner - Part 1 to Part 4
Product Code: 4/21-A101-4-JDN-(1245)-09:30/12:30 2021

Age Group
Adults 成人
Type
Super Intensive Courses (90h and +)
Session
2021 - Autumn
Pace
4 classes a week x 3hrs
Level
A1 Beginner - Part 1
A1 Beginner - Part 2
A1 Beginner - Part 3
A1 Beginner - Part 4

Schedules
12 Oct 2021 to 21 Dec 2021

Mon, Tue, Thu, Fri 9:30am ▸ 12:30pm at Jordan Centre > 204 (Severine Richet) (Patricia Montaron)
A valid registration fee is required in order to enroll in this course (members are exempt).
Objectives
A101, A102, A103, A104
Prerequisite: no prior knowledge of French whatsoever
In those first 120h of Super Intensive French, you will get to learn the basics in French:
• Greetings and introducing oneself,
• Giving and asking for personal information (name, address, telephone number, age),
• How to order in a restaurant, to do some shopping, in supermarket or shop, etc.
Grammar contents : nationalité, articles, négation, verbes en Er, masculin et féminin, pronom en, singulier, pluriel, nombre et place des adjectifs, futur proche et passé récent, venir, verbes pronominaux, impératif, pouvoir, vouloir, déterminants possessifs, passé composé, futur.
Registration fee (AF Member) is valid for one year and can enjoy the benefits equivalent to an AF Ordinary member.
Required Course Material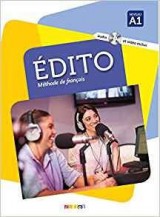 Pack Edito A1 (Textbook and Exercise) + AF Guide du débutant
It is a modern communication-based method with exciting new topics and approach, up-to-date documents.
This pack includes Édito 1 textbook, workbook, DVD-ROM and Audio CD, and AF's Self-study guide.
Mp3 audios, videos, and additional exercises/activities available online: https://didierfle-edito.com/
$10,800.00

HKD
Approx $1,388.60
USD
2 places left!