Order a course
Your previous selection: Jordan Centre
52 Jordan Road, Kowloon

Only 1 course available for this selection
A2 Intermediate (Kids 2) - Part 1
Product Code: 4/21-E301-JDN-(1)-17:00/18:30 2021

Age Group
Kids 2 (七至十歲)
Type
Regular (Kids & Teens)
Session
2021 - Autumn
Pace
Once a week x 1h30
Level
A2 Intermediate (Kids 2) - Part 1

Schedules
18 Oct 2021 to 20 Dec 2021

Monday 5pm ▸ 6:30pm at Jordan Centre
A valid registration fee is required in order to enroll in this course (members are exempt).
Objectives
A2 Intermediate (Kids 2) - Part 1 (E301)
This A2 Intermediate Kids 2 will bring the students: to talk about their country and their life at school. to describe their attributes, This level gives you a chance to review some contents of the Discovery level.

Prerequisite: A1.2 Beginner (Kids 2) - Part 6 or placement test
Textbook: Passe-Passe 3, Unit 1
Required Course Material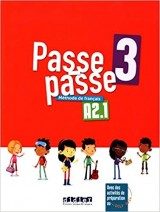 Passe-Passe 3 - Etape 1
Passe-Passe is a lively and structured method for kids from 8 years old.
Your kid will discover and practice french language with the 6 cute friends during 6 units.
This level is a first step and preparation for the first part of the A2 level of the Common European Framework for languages.
The book includes the Audio CD where you will find the songs.
$1,950.00

HKD
Approx $250.38
USD
1 place left!