Order a course
Your previous selection: Jordan Centre
52 Jordan Road, Kowloon

< Back
A1 Beginner - Part 3 (Dual Mode)
Product Code: 4/21-A103-DualMode-JDN-(5)-18:30/21:30 2021

Age Group
Adults 成人
Type
Regular Course (Adults)
Session
2021 - Autumn
Pace
Once a week x 3h
Level
A1 Beginner - Part 3

Schedules
15 Oct 2021 to 17 Dec 2021

Friday 6:30pm ▸ 9:30pm at Jordan Centre
A valid registration fee is required in order to enroll in this course (members are exempt).
Objectives
Our DUAL MODE courses offer you the liberty to choose between taking the class face to face or online. Every week, choose to come to our center or stay at home/work and enjoy the flexibility provided by such an arrangement.
Note that you will have to notice your teacher at least 24 hrs prior to the class whether you choose to take the class face to face or online.


Recommended Course Material
Grammaire Progressive du Français A1 Débutant (Livre)
This level corresponds to Beginner classes, from A1.2 to A1.4.
It presents basic french rules with easy access explanations and many exercises in use.
It also has an audio CD with dialogues and exercises.
Keys are in a separate booklet.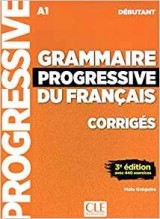 Grammaire Progressive du Français A1 Débutant (Corriges)
Keys for "grammaire progressive" débutant
$3,000.00

HKD
Approx $385.36
USD