Order a course
Your previous selection: Jordan Centre
52 Jordan Road, Kowloon

< Back
A1.2 Beginner (Kids 2) - Part 1
Product Code: 3/21-E201-JDN-(6)-09:30-11:00-PP2 etape1 2021

Age Group
Kids 2 (七至十歲)
Type
Regular (Kids & Teens)
Session
2021 - Summer
Pace
Once a week x 1h30
Level
A1.2 Beginner (Kids 2) - Part 1

Schedules
17 Jul 2021 to 18 Sep 2021

Saturday 9:30am ▸ 11am at Jordan Centre
A valid registration fee is required in order to enroll in this course (members are exempt).
Objectives
A1.2 Beginner (Kids 2) - Part 1 (E201)
Your kids will start the last part of their A1 journey with some revisions: your kid will revise the vocabulary of emotions, family, activities and animals. They will ask and answer questions about identity, localize in a place, tell what is the weather, give their birthdate, understand instructions and know how to interact in daily activities, present their family.

Prerequisite: A1.1 Discovery Kids 2 - Part 6 (E106 with Passe Passe 1) or placement test
Textbook: Passe-Passe 2, Unit 1
Required Course Material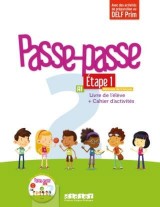 Passe Passe 2 - Etape 1
$2,137.00

HKD
Approx $275.37
USD
Early Bird Collective classes - 5% discount: $113 off
Normally: $2,250
4 places left!