Order a course
Your previous selection: Shatin Centre
Level 8, Tower I, Grand Central Plaza
Only 1 course available for this selection
Catch-up on B1
Product Code: 1/21-CATCHUP-B1-SHA-(6)-13:30/16:30 2021

Age Group
Adults 成人
Type
Workshops
Session
2021 - Winter
Pace
Once a week x 3hrs
Level
B1 Independent - Part 4
B1 Independent - Part 5
B1 Independent - Part 6
B2 Advanced

Schedules
16 Jan 2021 to 27 Mar 2021

Saturday 1:30pm 🢒 4:30pm at Shatin Centre (Jalila Azizi)
A valid registration fee is required in order to enroll in this course (members are exempt).
Objectives
Après avoir terminé le niveau B1, nous vous proposons un atelier pour renforcer vos compétences.
La première partie de l'atelier permet de se remettre à jour en grammaire pour travailler la Compréhension et la production écrite. La deuxième partie est consacrée à la production et la compréhension orale pour pratiquer en situation le français dans un environnement convivial.
Cet atelier sera un atout si vous souhaitez préparer le delf B1 ou pour passer au niveau B2 plus sereinement ( sachant que le niveau B2 et lui aussi pleins de défis).
Prérequis : fin de B104

After finishing level B1 we suggest you a workshop to reinforce your skills.
The first part of the workshop is to review the essential parts of the grammar to improve your writing and reading skills. The second part is to practice in daily situation the french language in a friendly environment.
This workshop can be an asset if you want to take the Delf exam level B1 or if you want to move foward to level B2 more comfortably (since this next level is also full of challenges).
Prerequisite: finishing level B104
Recommended Course Material
Grammaire Progressive du Français (Intermediate) - Keys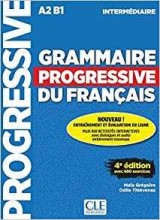 Grammaire Progressive du Français (Intermediate)
This grammar is the most widely used worldwide and has been a table-coffee book for millions of students since its publication.
Covering both A1 and A2 levels, it can be used as from A1.3 until B1.1 classes.
Mixing grammar explanations in a simple language, and hundreds of exercises in use, it also contains an audio CD and a "web-livre" (online e-book version).
Keys come in a separate booklet.
$3,750.00

HKD
Approx $483.46
USD
2 places left!