Order a course
Your previous selection: Wanchai Centre
1 & 2/F, 123 Hennessy Road, Wanchai
< Back
A1 Beginner - Part 4 & A2 Intermediate Part 1 (Wed & Fri evening)
Product Code: 3/20-A104-A201-WAI-(35)-18:30/21:30 2020

Age Group
Adults 成人
Type
Intensive Courses (60h)
Session
2020 - Summer
Pace
Twice a week x 3h
Level
A1 Beginner - Part 4
A2 Intermediate - Part 1

Schedules
22 Jul 2020 to 25 Sep 2020

Wednesday and Friday - 6:30pm to 9:30pm at Wanchai Centre > 04
A valid registration fee is required in order to enroll in this course (members are exempt).
Objectives
A104, A302
Prerequisite: A1 Beginner - Part 3 (A103) or placement test
Required Course Material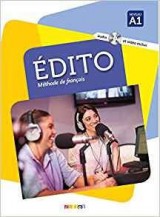 Pack Edito A1 (Textbook and Exercise) + AF Guide du débutant
It is a modern communication-based method with exciting new topics and approach, up-to-date documents.
This pack includes Édito 1 textbook, workbook, DVD-ROM and Audio CD, and AF's Self-study guide.
Mp3 audios, videos, and additional exercises/activities available online: https://didierfle-edito.com/
$5,400.00

HKD
Approx $696.71
USD
4 places left!